What Is Fashion Forecasting?

A chat with fashion forecasting expert Arlene Guerra gives us deeper insights into this fascinating career.
I could regurgitate definitions I read off Wikipedia, but why bother?
Let's meet our professional!
NOTE: This interview was edited for brevity and clarity.
Fashion Forecasting Expert Arlene Guerra
Arlene Guerra
Education: California State University, BA Marketing & FIDM, AA Product Development
Current: Product Development At Jeremy Scott

What Does A Fashion Forecaster Do?
To put it simply, a fashion forecaster edits the noise. It's a unique challenge considering the vast sea of fashion information we're bombarded with daily. The outcome is typically a comprehensive report compiled and curated then presented in a digital format.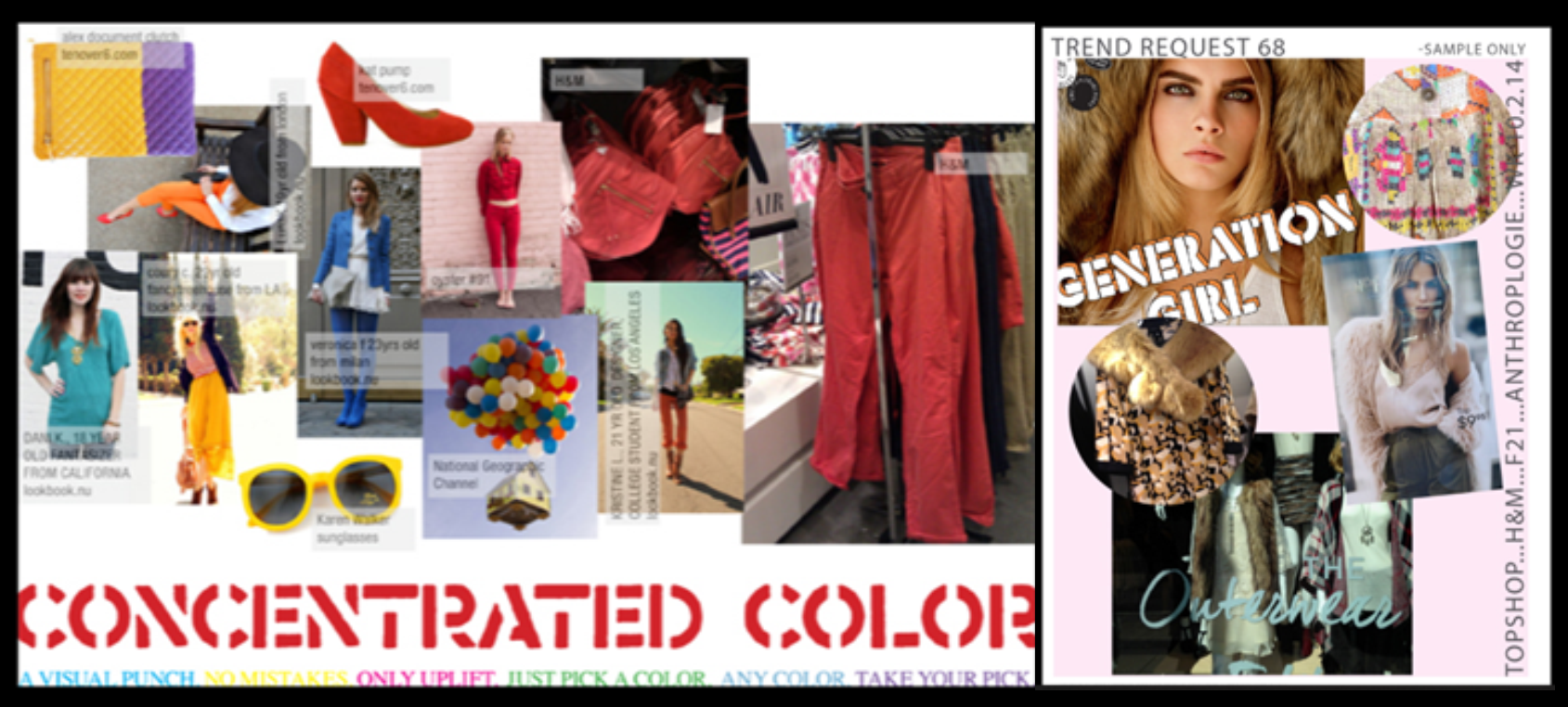 Fashion Forecasts by Arlene Guerra
How Did You Get Into Fashion Forecasting?
I have a bachelor's in marketing and worked as a fashion stylist for years. I wanted to learn the technical side of fashion. So, I pursued a Product Development degree from FIDM. A product development degree is learning the production process from concept to production. This included fashion forecasting and it's where I discovered the forecasting aspect of fashion.

Does Fashion Forecasting Require Special Education?
Based on my experience typically, employers prefer you have a degree such as Product Development or Design. I always suggest researching job listings and noting which skill set the employers/clients are requesting. Technical skills such as literacy in programs like InDesign, Photoshop, sometimes Illustrator are also required.

What's A Day In The Life Of A Fashion Forecaster Like?
A typical day fluctuates depending on what I'm working on.  Here's a general breakdown of the tasks…

Scanning Media
I'd be taking a moment to see what is happening in the news. The economy and business have a big impact on everything including fashion. Reviewing my emails that are focused on new inventory, style trends, any news fashion sites is helpful.

I'm subscribed to several go to sites from fashion brands, trend sites, fashion news sites, to home furnishings to general overall trend. Sites like The Cut, refinery29, Casandra Daily to name a few. I spend some time on social media, too.

Communication
Next, I'd probably be taking calls and emails with clients to clarify direction for any ongoing or future project.

Research
Depending on the project, I'll also schedule some time to review big forecasting agencies reports, filtering them and keeping my eyes out for what they're predicting is up and coming. Google - of course - being your best friend as a forecaster. Utilizing keywords and digging can be a nice way to compile a go-to list for sourcing.

Technical
I'm usually building a report in InDesign, editing, writing, moving things around, Photoshopping the images, etc.

Shopping The Market
I'd also be shopping the market, buying samples and taking photos of inspiration - from merchandise on the racks to street style - to later curate for any projects. Shopping flea markets. Vintage is a big influence on fashion. Luckily, I have a love for vintage so that comes easy. Travel is a great source for inspiration as well.

On-Going
One of the main tasks is a constant gathering and curating of information.

Part Of Fashion Forecasting Is Analyzing Data. Where Does That Data Come From?
Forecasting is a lot of sifting through information online but there is no magical place where the data all comes from. It's a matter of compiling the information on a daily basis and refining a list of your personal go-to sources.

The sources are typically from a big trend agency like WGSN or Fashion Snoops, but to break those sources down: Google, trend agencies, buyers, online news, brand campaigns, social media, art, economy, etc. 

It also depends if the trends you're predicting is for a qualitative purpose which is subjective or quantitative which is about the numbers. Analyzing the runway is the best way to see what the big ideas are for the season and then translating that on a commercial level.

Who Are The Main Customers Of Fashion Forecasts?
Typically, big retailers have a team of forecasters in different categories – men's, women's, children's etc. - who inform the buyers and a product development team. Manufacturers and designers typically use forecasters as well.

How Does Fashion Forecasting Play Into The Design Process?
Most of my reports are handed off to designers or product development teams for inspiration. They're usually sent the beginning of a season to set the tone for overall theme, silhouettes, color and textiles. This can be the foundation for how a collection will initially get started.

If One Wanted To Pursue A Career In Fashion Forecasting Today, What Would You Advise Them?
I would suggest 3 options…
Pursuing a degree at a fashion school such as FIDM. They have a few programs that incorporate the fashion forecasting path - Design, Styling, and Product Development degrees.
Another alternative is to begin compiling trends and curating reports for the area you want to specialize in. I started with some trend internships and had to present a report predicting the market that they requested.
Styling is a great foundation since it already involves so much of what goes into forecasting. Staying up to date with trends. Understanding the apparel market. Predicting the next thing and having an eye. Taking in everything from street style to art shows.

What Are 3 Top Skills For A Fashion Forecaster?
A keen eye

The ability to analyze data qualitative or quantitively, and




Technical skills to curate the data into a visual story.




Tell Us What You Are Working On Now?
I've been curating the runway shows as the fall 2020 season has come to an end. I compile the information into folders by trend. Typically, this is mostly to confirm the predicted trends since usually forecasts happen almost two or more seasons ahead.

I'll be shopping the market in another couple of weeks. You can take a look at my past reports to see how I utilize this information and apply it.