Starting A Fashion Blog To Launch Your Own Brand
Starting a fashion blog is the #1 way to start a fashion business. Think about it.
Even if you wanted to start a clothing line, you'll still need a website to conduct your business. Yes, there are free platforms that allow you to make sales – such as on Instagram. But if you want to look truly legitimate, your customers better land on a website and not just one of your social pages.
Speaking of customers, they're not likely to just turn up out of the blue. Even when you've tried selling your brand on social media first.
How many of you know your mom & best friend sharing & liking those posts aren't enough to drum up sufficient enthusiasm for your brand that nobody's heard of. Yet.
So, in this article, we're looking at - a generalized overview of what it's really like starting a fashion blog as the basis of your fashion business.
Your Fashion Blog Business Plan
Now that we're clear on the fact that we'll be starting a fashion blog as the basis of a thriving fashion business, we should discuss your business plan. There's no shortage of ads that claim starting a fashion blog is as easy as 1, 2, 3.
But can you be assured that your efforts will amount to anything?
Or…
Will your blog posts just get lost in an endless sea of much more mature sites that began 10- or 15-years prior? Now boasting teams of writers and millions of social media followers behind them?
Remember, your goal is to build this blog as a profitable business. As such, you don't have the luxury of doing whatever you want. You're now in the service of a market and their needs & desires.
That doesn't mean it'll be all work and no play.
But it does mean you need to strike a balance between what you want to do and what will pay you well.
Writing Your Fashion Blog Business Plan
I have a love-hate relationship with business plans.
Here's why…
When you've never run a business before, it's especially hard to come up with any truly useful projections.
Fortunately, a fashion blog has minimal start-up costs.
This immediately reduces your risk and means you can most likely come up with the initial funds yourself.
A fashion blog can also be a solo enterprise. Which removes the need to convince partners or investors of your plans.
This means the business plan for your fashion blog will mostly be for your eyes only.
With this in mind, we can rule out convention and focus on what's really important to creating a successful business from your blog.
Startup Costs
Your fashion blog will primarily be a website that you regularly add content to i.e., articles, pages or blog posts.
To do this you'll need…
Laptop/computer
Internet connection
Website Hosting & domain name
Keyword research tool
Guidance
---
NOTE: Depending on how visual your fashion business will be, you may need/want photography/videography equipment. But these days you can get away with using your phone.
---
Let's just assume we all have #1 & 2 sorted. If not, you know what to include in your particular initial start-up costs.
Moving on to # 3, 4 & 5 most people will source each of these requirements separately.
The hosting option I use combines all three and that's why I'd never change. But I'll talk about that more a little later.
For now, let's look at each of the last 3 requirements briefly so that you understand what to look for.
---
WARNING: things are about to get a bit technical so put on your administrator hats.
---
#3 Website Hosting & Domain Name Options
Usually, website hosting & a domain name are obtained separately.
You'd buy your domain name - for example FashionSchoolSnitch.com - and maintain active usage of it for a recurring yearly fee.
---
TIP: while most people will rush to register their domain name - for fear that someone might steal their super awesome business name - I'd strongly advise you to put this off until your business plan is complete.
---
After all, a successful business isn't built on a cool name alone.
Your website hosting is like the real estate broker that'll rent you a piece of the internet.
Following the real estate analogy, you'll have a recurring payment for your website hosting which will remain active as long as you pay for it.
How much does it cost?
A domain name costs well below $20 depending on where you buy it.
I'll discuss blog names in detail later. But please don't rush to register a domain name just yet.
For website hosting, expect to pay upwards of $200 a year. This can be billed per month or per year as you wish.
---
Note: Many companies do offer greatly discounted pricing for the first year of website hosting. But do consider the full amount that will be require thereafter. Your blog will most likely only start making money around its third year so do consider that you'll initially be paying these bills out of your own pocket for a time.
---
Also, when it comes to website hosting, additional costs can pop up.
For example, what starts out advertised as a $3.95 a month*on BlueHost will easily come up to over $200 a year in reality.
My point is, do your due diligence in researching options fully before getting excited about "special offers".
#4 Keyword Research Tool
There are free & paid tools. Free is usually a nice way of saying we won't give you all the information you need. Just enough to wish you could pay for it.
WordPress does have a keyword tool plug in option. But I've never used WordPress myself and cannot say much more than that.
Keyword research is what will inform all your decisions as an online business and blog. I cannot stress the importance of it.
Proper keyword research will help your search engine optimization (SEO) which means each post that you write will be found more easily and more likely to have people see what you're putting out there.
#5 Guidance
Wrapping your head around the technical side of running a blog, business administration & actual blogging will be a learning curve.
It can very easily begin to feel that you're not doing as much fashion as you thought you'd be doing and are instead stuck with all this other stuff that's sidetracking you.
My Recommendation
I use SoloBuildIt! which combines website hosting & domain name options, a keyword research tool & guidance.
It really is the best option for someone who just wants to get into building their blog and not be distracted trying to figure stuff out.
It's also based on a content building first approach which is what we want.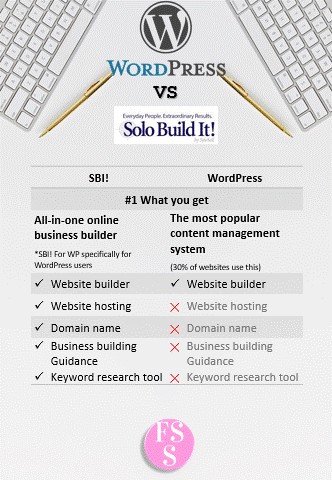 WordPress vs SBI! (Sitesell): pricing, what you get, pros & cons
Read more about the true cost of WordPress here.
Things To Blog About Fashion
Before you start thinking about individual blog post ideas, you should be clear about the general theme of your site.
There are as many things to blog about fashion as there are career options in the industry. Blogging topics will basically fall into one of two groups depending on which market you intend to serve.
In business terms that is…
Business to Consumer (B2C): these are businesses that serve consumers i.e., you and me who buy items & services for personal use. An example of such fashion businesses would be fashion retailers like Nordstrom, Macy's, Gucci etc. So, an example of a fashion blog targeting a business to consumer market would be a blog about style & outfits like the website NewInspired by my friend Yuki Evoy, an FIT graduate.
An online fashion boutique would also fall under B2C.
Business to Business (B2B): These are businesses that serve other businesses. There is equally a market for fashion designers, photographers, managers, writers etc. And not just in terms of employees but as freelancers and small businesses that companies can outsource their work to.
The suppliers you turn to when looking for material for your capsule collection or the manufactures you send your designs to are examples of B2B businesses.
With this in mind, your blog could be part of your personal branding to promote yourself as the perfect employee, freelancer or business to partner with.
So where do you fall?
Are you a 16-year-old in year 10 with a quirky sense of fashion? Maybe you fall on the B2C side where you'll share cute outfits.
Or…
Are you a fashion school graduate who studied Fashion Communication? Your blog could be about helping businesses with their social media, working with influencers, content calendars & maybe even navigating sticky PR situations.
Fashion Blog Post Ideas
Once you're clear on the general concept for your blog, now you can start thinking about individual blog post ideas.
This clarity will help you come up with ideas in a more organized, targeted way. Which is what we want.
Easier and faster to make a name for yourself as the girl who blogs about 1920's fashion than to be talking about handbags one week and smoothie recipes the next.
Of course, it's your blog and you can do whatever you want, but as a business owner, these are the kind of administrative decisions you'll have to make. 
So, ask yourself.
Do you still want this to be a business or is it just for fun?
How Many Individual Blog Post Ideas Do You Need?
At the risk of oversimplification, once you've come up with say 300 individual blog post ideas, you can be quite certain that your blog will be able to stand the test of time.
When I say 300 blog post ideas, I'm not suggesting you come up with them manually. A good keyword research tool will do this work for you.
---
NOTE: The importance of this preliminary work cannot be over emphasized. It can take some time, but this time is well worth the investment.
---
What comes next?
Once this preliminary work is done, then you can go on to purchase your domain name & hosting and then get busy actually writing the pages of content.