Fashion Schools in South Dakota
Cheap Fashion Schools In South Dakota
I was shocked but pleasantly surprised to find one school that offers a 4-year bachelor's degree in fashion merchandising & retail. It's South Dakota State University - a 4-year public school. The university has reciprocity agreements with the state of Minnesota. That means Minnesota residents can take advantage of lower fees while attending South Dakota State University.
SD State University has similar arrangements for students from adjacent states as well.
Now let's look at the school...
South Dakota State University
About the School
South Dakota State University has a mid-size campus in a rural setting and offers
The good: About 90% of reviews were positive according to Niche.com calling it a great place to study, offering students opportunities that you would get in a large university while being in a small town.
The bad: Complaints about unhealthy food options, harsh winters, not much to do in the location without having a car to drive out, and a few financing horrors.
I also noticed the school seems more sports oriented. To be honest I think this school would be best suited to a local. It doesn't quite scream international student appeal to me.
My first impression of their website. Its alright.  Although after spending some time on it, it was very slow and problematic in loading. 
Cost to Attend Fashion School in South Dakota
Tuition
The South Dakota State University tuition and fees page offers very broad estimates. But on closer examination we see that the fees you pay as a fashion student could be quite different from those estimates.
Best to check the tuition by majour page.  
Type in "fashion" and select your option under "show prices" for SD Resident, SD Advantage, Non-resident or Minnesota Reciprocity.
The tuition is listed under Freshman, Sophomore, Junior & Senior. In case you didn't know that is just the American way of saying 1st year, 2nd year, 3rd year and 4th year respectively.
The tuition for SD Residents and SD Advantage are the same.

**SD Advantage applies to students from Wyoming, Montana, North Dakota, Nebraska, Iowa and Colorado.
SD State Uni Tuition (Resident & SD Advantage)
Tuition for Minnesota Reciprocity are slightly higher by about $175 dollars more.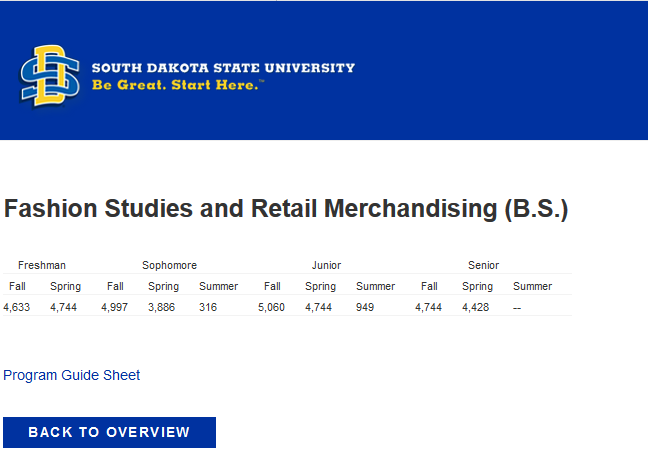 SD State Uni Tuition (Minnesota Reciprocity)
And tuition for Non-Residents is highest at about $1,600 more than what residents pay.

SD State Uni Tuition Non-Resident
Fees (separate from tuition)

Scroll down the tuition and fees page.
These were the only ones I could pick up that had to be paid.
Application fee $20.00 (undergraduate)
General activity fee $47.25
Discipline fees (fine arts visual arts) $26.20/credit x 30 = $780/year
NOTE: I didn't see a course outline on the school website. But I heard mention of getting 30 credits in the reviews. And most schools do require a 12 to 15 credits per semester for fulltime. That was how I calculated the total Discipline Fees.
Housing
Housing is listed on this page.
In the range just under $2,000 to $3,502.70 a semester. In reviews some complained that living on campus was lonely as everyone goes home on the weekends.
Also, the school has a requirement for full-time students – international students as well – within two years of high school graduation to live on campus, unless specially exempted.
Meals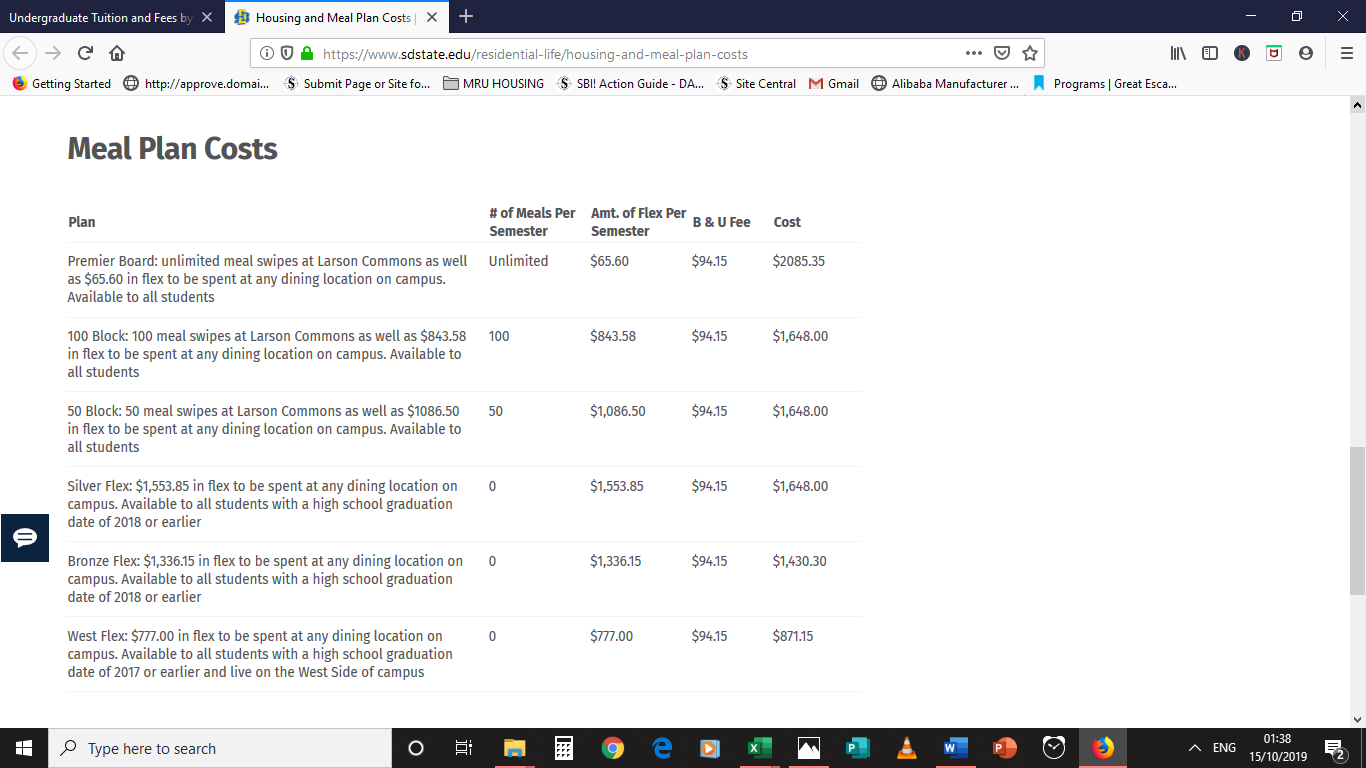 SD State Uni Meal Plans
Not sure how they are being calculated in that table. "Flex Dollars" seem to be some sort of credit for buying meals.
Health insurance
On the South Dakota health insurance page, it says a student must submit their insurance info so the school will bill your insurance company if treated at the student health clinic. If not, the bill is passed on to the student to pay themselves.
Lastly, please go through their other fees page just in case anything applies to your situation. 
Final Thoughts on Fashion Schools in South Dakota
If you have a fashion dream and feel like your location may be against you, at least you can get a start of a fashion education and probably transfer to a larger more fashion centric state for the final 2 years. And if you end up working for yourself in the fashion industry, then nobody will be looking at your resume anyway.
South Dakota is also known for its lower cost of living which may be attractive for savings during your years of study.  Take a look at the screen shots below to get an idea.
Cost of living: Restaurants & Markets in South Dakota
Seeing as the university is in a rural setting and the possibility of snow, having your own car would be more convenient. And remember some reviewers complained there wasn't much to do unless you drove into town.
For me, I would look at a map, try to figure out how far I would be likely to be driving on a regular day, and from that figure out my possible fuel costs...

Cost of living: Transport, Utilities and Activities in South Dakota
And let's not forget accommodation...

Cost of Living: Accommodation South Dakota
That's it for this fashion school review. Hope this helps!