Michelle Chongo, Foundation Diploma in Art, Design & Media.
Michelle Chongo, Foundation Diploma in Art, Design & Media.
by Michelle Chongo
(Livingstone, Zambia)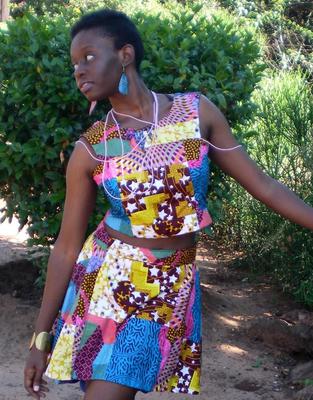 Fashion Design
My name is Michelle Chola Chongo. I am currently studying a Foundation Diploma in Art, Design & Media.

I was born in Botswana to Zambian migrants and have spent my life between these two countries. My parents were the generation that saw my country colonized and liberated. We were raised thoroughly British and Roman Catholic.

Keeping modest apparel was law. Similarly, we are pushed towards academic subjects and careers. The architecture and engineering books my father brought from work were as close as I got to design.

When I discovered fashion, I was chided for not having more scholastic aspirations. It was planned I would study Chemistry at university and make fabrics from that if I insisted. I refused. Instead I began making my own clothes.

I studied my foundation course online because there are no courses nearby with the professional standards I require. My time at OCAD has given me a glimpse into how I can draw from other art forms to understand and practice fashion at a professional level.

Undertaking various projects has generated a renewed interest in my own culture and the traditional skills that have been over looked with modernity. Handmade, carefully crafted textiles are such a big part of our way of life and we communicate visually in the form of street side art.

Africa needs to share its creative abilities in a contemporary manner and make this more easily accessible to people that may not speak our languages or understand our ways.

Through my studies, many suppositions I had about fashion and fashion design have been obliterated. This excites me and makes me want to learn more. For example, research is a huge part of what we do and this has been instrumental in widening my knowledge base and advancing my ideas, as has a range of designers who were previously unfamiliar to me. My aptitude and interest in the English language has been most helpful in this aspect.

Living and studying at degree level alongside students and educators from different backgrounds and cultures will be an opportunity for me to add to the diversity within the group and to further my creativity and discovery and this will enable me to be a more inventive designer.

Interacting with industry professionals, will equip me not only with the knowledge they have, but also with the skills to make my aspirations a reality. Working alongside those who fully understand the industry will also take me into the realm of influencer and innovator within the industry.

I look forward to discovering all I can about fashion and fashion design and to relating this to the fashion industry in Africa. By rediscovering and bringing back to life the techniques and old technologies, and by enriching these with a more contemporary outlook, I feel I can make a difference.

I envision being instrumental in expanding the industry in the untapped region that is Africa.

A fashion design degree course will equip me with the skills and knowledge to contribute to this redevelopment.



Join in and write your own page! It's easy to do. How? Simply click here to return to Submit Your Fashion Portfolio Here.