What Does A Textile Knit Designer Do?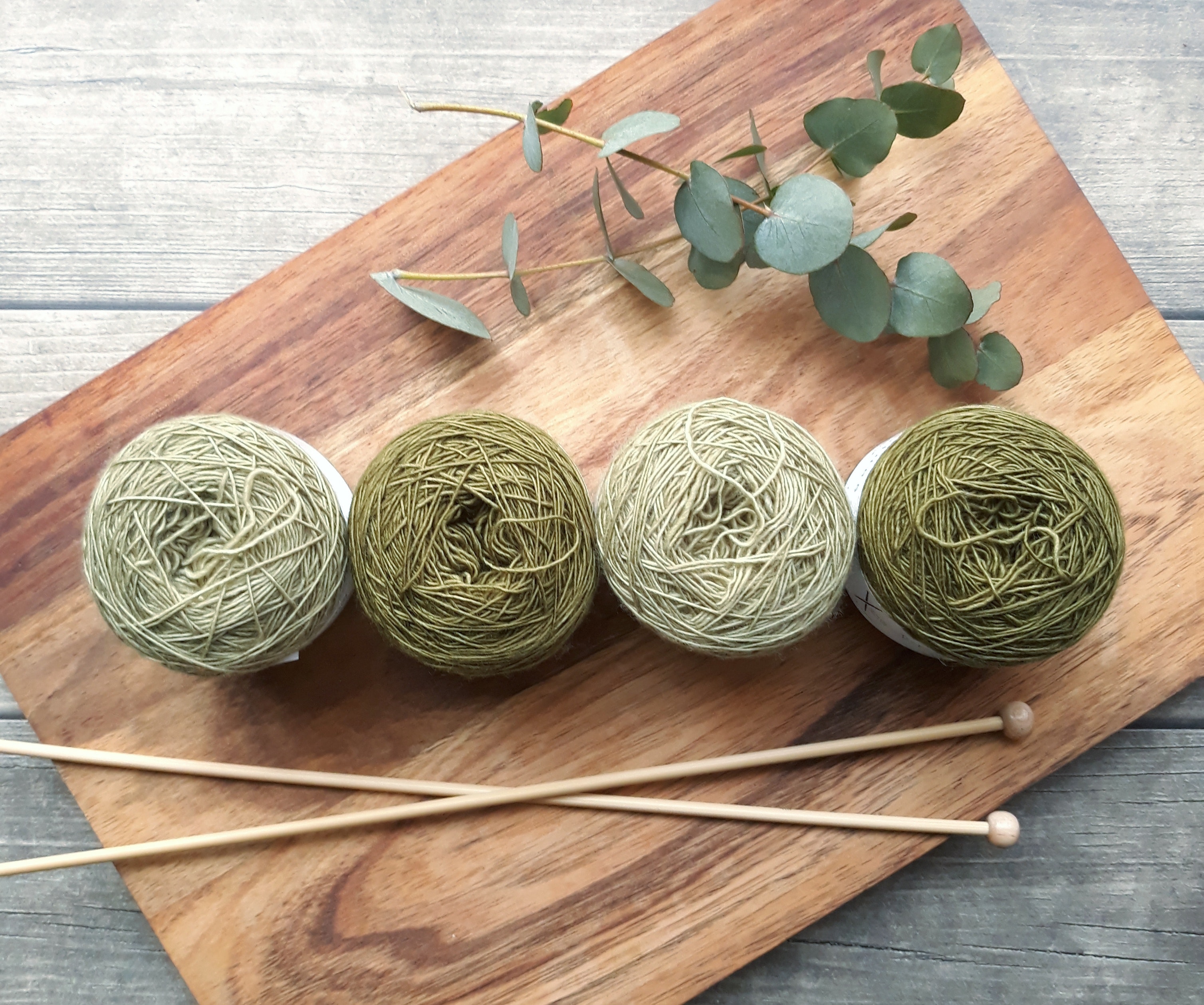 By Surene Palvie from Pexels
Textile knit design is just one of the many job options within fashion textile.
Well, what does a textile knit designer do?
Before the images of ugly Christmas sweaters and jumpers scare you off, consider that the world of knit is divided into 2 distinct groups.
What Are Weft Knits?
Ok, so weft knits do have to do with ugly Christmas sweaters.
To define weft knits technically, I could say that they are knits produced across the grain, but that definition never made much sense to me…
More simply put, the loops or stiches run back and forth.
Just remember that a textile knit designer can produced them either by hand or on a machine.
Wefts knits come in 2 groups
They also come in various sizes from the teeny tiny micro knits of Jersey to super chunky Sweater Knits.
So naturally, each of these knit textiles will be used in various applications.
For example...
Jersey knits usually end up as t-shirt fabric, obvious for warmer weather, while sweater knits go to making well sweaters for colder weather.
Refer to the screen shot below for more details.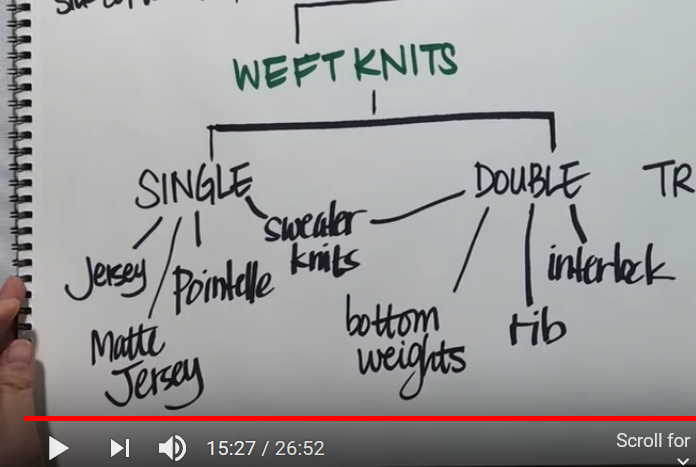 Screenshot taken from Zoe Hong's "Learning About Fabrics 4: Knits Basics" on YouTube
What Are Warp Knits?
Technically, with warp knits the loops go along the selvedge or the straight grain.
That just means that the loops cross upwards.
So far, can only be produced on a machine.
Warp knits also come in 2 groups being
This is where I got really excited.
Because this uncovers a while world of under the radar knit specializations you may have never thought of…
Lace
Mesh
Power stretch knits used in hosiery
And a whole lot more.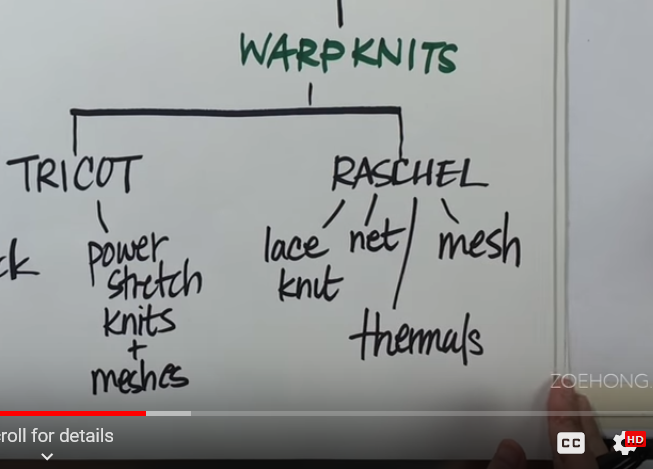 Screenshot taken from Zoe Hong's "Learning About Fabrics 4: Knits Basics" on YouTube
These all belong to the world of a textile knit designer. You just have to pick your specialization.
But enough with the technicalities.
Let's meet our textile designer!
Interview With A Textile Knit Designer
Joanne Cantwell has worked for the likes of Tulchan, The Limited and Peter Scot Knitwear.
Currently she works as a design consulting and instructor at the Online College of Art and Design.
She holds a 3-year BA Hons in Textiles for Fashion and a 2-year Master's Degree in Fashion specialising in fashion knitwear at UAL with over 26 years of experience in the industry.
Let's get into our candid conversation.

Starting Out As A Textile Designer…
How did you land your first job as a textile knit designer?
Through an internship with Tulchan. There I learned that building contacts and putting yourself out there are very important.

What were your responsibilities as a newbie textile knit designer?
I had many junior roles like pattern cutting, sewing, styling, dressing fashion shows, working long hours. I needed to be keen to learn and go beyond what was expected of me.

Was there anything that you felt your education*- particularly prepared you for as a new knit textile designer?
*Education - BA Hons in Textiles for Fashion and a 2-year Master's Degree in Fashion (fashion knitwear)
Yes. I feel like school prepared me with the skills and confidence to step out of my comfort zone and the creative language to get things done.

Was there anything you felt particularly unprepared for as a new textile knit designer?
No, not really. It was just exciting to be part of the creative process.

Work Life Of A Textile Knit Designer…
Later in your career, you started your own business. What was that like?
It took a lot of hard work, late nights, research, self-doubt. I found well conducted market research, a great product/idea and financial back up was really helpful in the beginning. Looking back in retrospect, I wouldn't advise taking out any big loans. Keep things small to start off until you gain in confidence and you sort out all the potential problems.

How did you structure your business?
I was lucky. I left full time employment and set up a design service with people I had worked with, knew and trusted.

What's the biggest difference between working as a self-employed textile knit designer and working for someone else?
Freedom to work when, where and with whom I wanted to. It was also more stressful as I had to earn my own money and wear many hats - not just creative ones.

Do you really have that much creative freedom working under your own direction or is that a myth?
You do have creative freedom, but it's often the market trends that dictate what you need to create as it needs to sell. In any case, seeing people wearing your designs is always very gratifying.

Career Changes For A Textile Knit Designer…

After a few years, you got into teaching. What's the main difference between what you learned and what you teach students now?
The internet and technology. I had to read books, research in a library, go to art galleries and museums. Things are faster but also more 2D, flat on a screen, less tactile.

What has stayed the same in fashion education since you were in school?
The creative process has not changed, using your eyes, being inspired by cultural events, draping and cutting cloth, cutting patterns.

Was there ever a point where you felt like you had made it as a designer?
I have had a long career and worked with internationally renowned designers and brands and had many exciting and interesting experiences. Some good and many not so.

What has been the highlight of your career in textiles?
Traveling and experiencing different cultures has been one of my greatest joys.

Any advice for the young and aspiring?
My advice for young designers: learn your craft either at university or as an intern or apprentice. Design things you love and feel passionate about. Be open to learn, experience, travel. And never stop looking and being inspired by art and the world around us.

Final Thoughts On Textile Knit Design
Prior to doing this article, I had a very closed view of what it meant to be a textile knit designer. I would have written it off completely as a career to never consider. But once I got my research in, I found it actually had a lot to do with areas of fashion I was most interested in.
EDITOR'S NOTES: This just highlights why it's so important to be open to exploration and research outside of your immediate fashion interests. You never know what you might discover.
That's it for this article. Hope it helps!