Careers in Textile Design
Careers In Textile Design

Careers in textile design can carry you from the world of fashion and apparel to the wider world of soft goods and knocking down the doors of interior design.
So, the range of opportunities for anyone with an education and training in textiles is broad. That's great news!
When it comes to a textile design career, there are 4 main categories you can branch into.
They are…
Knitwear
Woven fabrics
Hides and furs
Non-woven fabrics

Sustainable textiles can both stand as its own unique category and a subset of textile design.
IMPORTANT: like always, what we're discussing here is areas of expertise as opposed to job titles. There's always crosspollination in the fashion industry. How you apply those expertise is up to you.

Knitwear Textile Design
The sweaters and socks that keep you warm and cosy are most probably the result of knitwear textile design.
Often a complete garment can be produced. Or just the textile that will be used to make a garment - by another designer.
But a career in knitwear textile design can go much broader in categories and styles.
This screen shot shows the wider world of knitted textiles that includes laces, meshes and performance fabrics used in athleisure to name a few.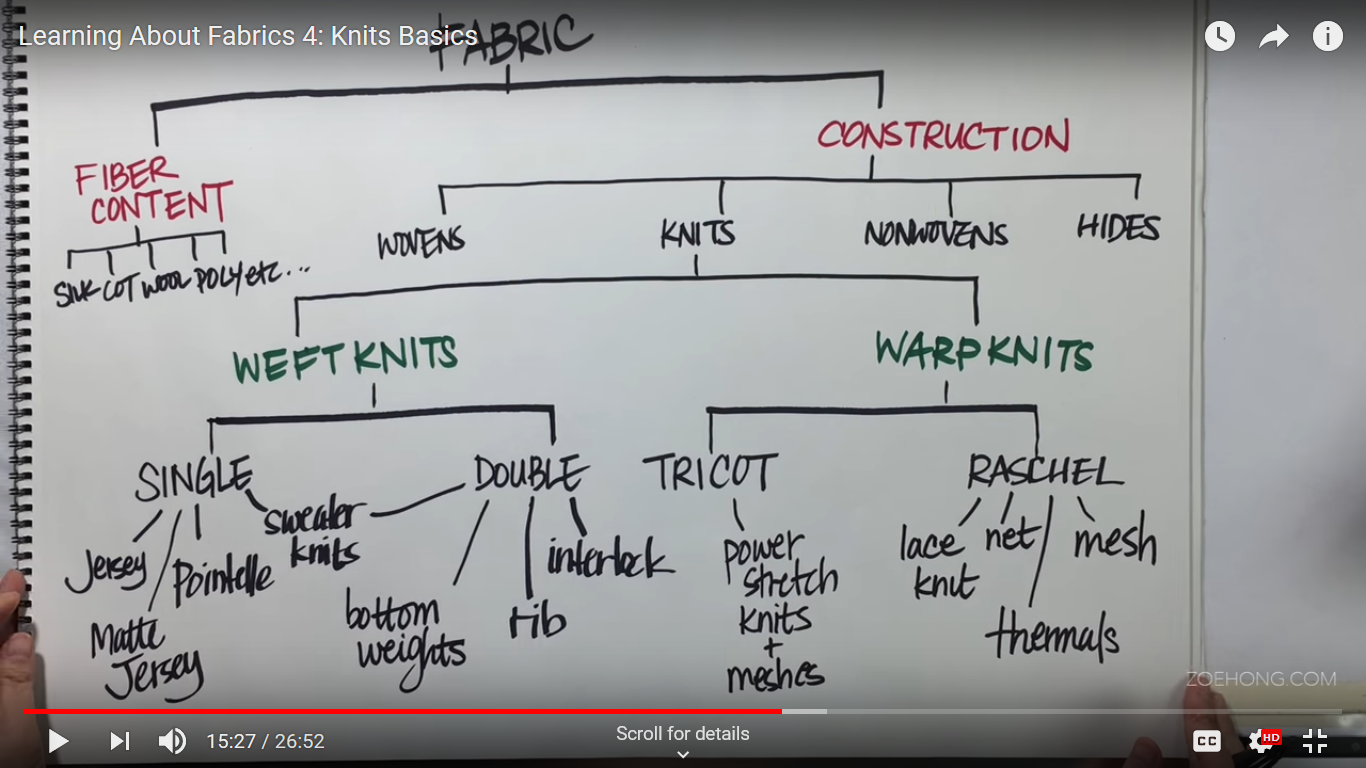 Knitted textiles. Screenshot taken from zoehong.com YouTube channel.
Do watch the full video from Zoe Hong that explains this in detail.

Want to meet a working knitwear textile designer to hear about her line of work? Read her full interview here.

Woven Textile Design
In woven textile design, the fabric is made for another designer to use and interpret.
Typically, a woven textile designer - aka weaver - works by hand making heavier quality fabrics that can be used for outerwear, bags or accessories and branching into textiles used in interior décor.
The lighter to medium weight fabrics most of us come in contact with, probably came of a machine in mass production.
But that boarders more on the manufacturing of textiles.
Woven textiles are characteristically stiff as compared to knitted textiles. So they are used in more tailored, cut and sew designs.
On the other hand, to create more range of movement when using woven textiles, zero waste designs like the layering of a saree to the loose fit of a Kasusu are used to create clothing.
I don't have an interview with a working woven textile designer right now. But I did find this short video from one.

Hides And Furs Textile Design
Traditionally, hides and furs only came from animals.
Typically, items made were often very expensive because the designer only had a finite amount to work with per hide produced by per animal.
Though the items were very good quality that could last for years, the hides and furs industry has been responsible for ridiculous amounts of pollution to the environment.
Outrage from animal rights groups, environmental activists and a growing trend towards sustainable practices from consumers has led to the rise of sustainable, plant-based versions of hides and furs.
As a vegan animal lover, I'm really happy about this.
Top innovators in this field include
Pinatex: producing a leather alternative made of pineapple fibre
Desserto: producing a leather alternative made of cactus

EDITOR'S NOTE: A textile design career could focus on sustainable fabrics. More on sustainable textile design below.

Non-Woven Textile Design
Non-woven textiles are a group of textiles that is everything that is neither woven, knitted or hide and leather.
Makes sense... I know...

Examples of non-woven textiles include
In my research I found that non-woven textile design was more popular in applications outside of apparel.

Sustainable Textile Design
We couldn't end without a word on sustainable textile design.
Sustainability in textiles can be as basic as using non-toxic dyes to as micro-manged a process as growing organic cotton and packaging finished good in biodegradable packaging.
Examples of sustainable textiles include
Recycled polyester
Organic cotton
Plant based leather
Words used to refer to sustainable fashion include
eco-friendly fashion and textiles
vegan fashion and textiles
conscious fashion and
responsibly made or responsibly sourced textiles
 For more on sustainability in fashion, read this article on circular fashion. 
Quick Facts About Careers In Textile Design
To end, here are a few quick facts about careers in textile design…

How much does a textile designer make? A yearly average of $54,130 in the US.
Textile designer education? Bachelor's degrees are available in the wider field of textiles.

Hope this article helps!