Fashion Resume How-To Guide
Fix Your Fashion Resume In 7 Days
Detailed How-To Guide
Wondering how to write your fashion resume? Then you're in the right place. Look over my shoulder as I explain key points in creating a fashion resume like the one down below.
If you're new to writing a resume, don't worry. I'll take you step-by-step into the how and why of creating job winning resumes.
Career Coach's Notes: This is a long guide, over 2300 words long. It is literally meant to stretch over 7 calendar days.  If you prefer to go through it together, then sign up here.  Whenever you have question, you can email me and I'll email you back.
This is what you'll find in this guide…
How to write your resume in 7 steps

And
2 Things You Need To Know When Writing Your Fashion Resume
There Are 2 Things You Need To Know When Writing Your Fashion Resume...
Resumes get screened for less than a minute with the purpose of disqualifying over 90% of applicants
Applicants are ranked with an ATS (Applicant Tracking System). The higher your ranking, the better your chances of being interviewed
To help you get through this first round of scrutiny, I created a checklist and video series that details the 7 deadly sins of fashion resumes and how to avoid them which you can find here What's Wrong With My Fashion Resume?
You should also know about the…
2 Types Of Resumes For 2 Types Of People
There are two types of people who will want to write a fashion resume
Those who studied a course in fashion and
Those looking for roles within fashion
But aren't those the same person?
Not exactly.
Let's say you studied fashion design as a degree or course, you may look for roles that are not particularly as a fashion designer.
And…
Even if you didn't study fashion design, you may still get a job as a fashion designer.
---
KEY POINT: Your degree may NOT always line up perfectly with your job. That is, fashion degrees do not always secure you a job in fashion. For example, most fashion design jobs ask for graphic design skills, so a graphic design degree may actually serve you better if looking for this role.
---
For the sake of this example, let's assume you are looking for roles in fashion, say as a fashion designer.
Even then, you should have two types of resumes…
A foundational resume and
A customized resume
A foundational resume is what a professional resume writer would produce for you. It takes into consideration all the best things about you and your career that make you a great hire.
However, you will not be applying for any jobs with this resume.
Why?
Because for that you need a customized resume.
A customized resume is a resume that is written in response to a particular job ad.
Every job will require different specifics from you.
You never want to skim on this and just send out a generalized resume.
Why?
Because of the first statistics I mentioned above.
It costs companies way too much time and money to sort through every applicant. It's natural they only look through the cream of the crop.
That's why this is my advice…
---
PRO TIP: Writing your resume should not be rushed. It takes time and planning. It's highly recommended that you take the time to apply for jobs calmly. That's why if you are in a rush, consider using professional resume writing services to speed up the process while still submitting high-quality job search documents.
---
Write Your Fashion Resume In 7 Steps
Step 1: Contact Information
Contact Information Highlighted In Pink - Fashion Resume Example
Contact information may seem pretty basic, but there are a couple points to remember.
Your Name
Your name must appear of course. Use the format in your official documents, should they do a background check, as some companies do. But this IS NOT the same as a headline. Skip ahead to find out about headlines.
A Professional Email Address
Take the time to create an email account specifically for your professional use. It's completely free and only takes a few minutes. It's easier on you if all emails pertaining to job applications go to one location.
When creating your username (the part before @gmail.com or @outlook.com) go for your first and last name. If your name was Jane Doe go for something like janedoe@gmail.com.
But that might be taken, so you could try...
jane.doe
j.doe
jane_doe
jane-doe
Maybe even include a middle name initial if they're all taken.
Just don't use something cute like janelovesfashionalot@gmail.com.
LinkedIn… A Must
Do you need a LinkedIn account? Yes.
Do you need hundreds of contacts to make your profile look more authentic? Not necessarily. My LinkedIn guide will be released shortly.
But your account should be optimized to look like a serious candidate. That will also take a little time and getting used to the platform. Even though your prospective employers may market their brands on Instagram, their hiring managers are on LinkedIn looking for who to add to the team. So, work on your LinkedIn as part of your career development.
Also, when you open your account, make sure to customize your LinkedIn URL so that it ends in just your name and not a stream of numbers.
Phone Number
Do include your phone number so that you are easily reachable.
If you happen to be applying for a job from outside the country, do include your international code.
Address… Keep It Short
When you put your address on your resume, you're not giving the address so your Amazon package can reach you from out of state.
All that is required is your...
City
State/country
ZIP/postal code
That's it.
If you see an example that lists a longer address, just know that it's a very old and outdated example.
Portfolio Link
Some roles would require a portfolio and that would be specified in the job posted. Even if not it may still be good practice to include a link to the work that you have done that is similar to the role you are applying for.
Step 2: A Headline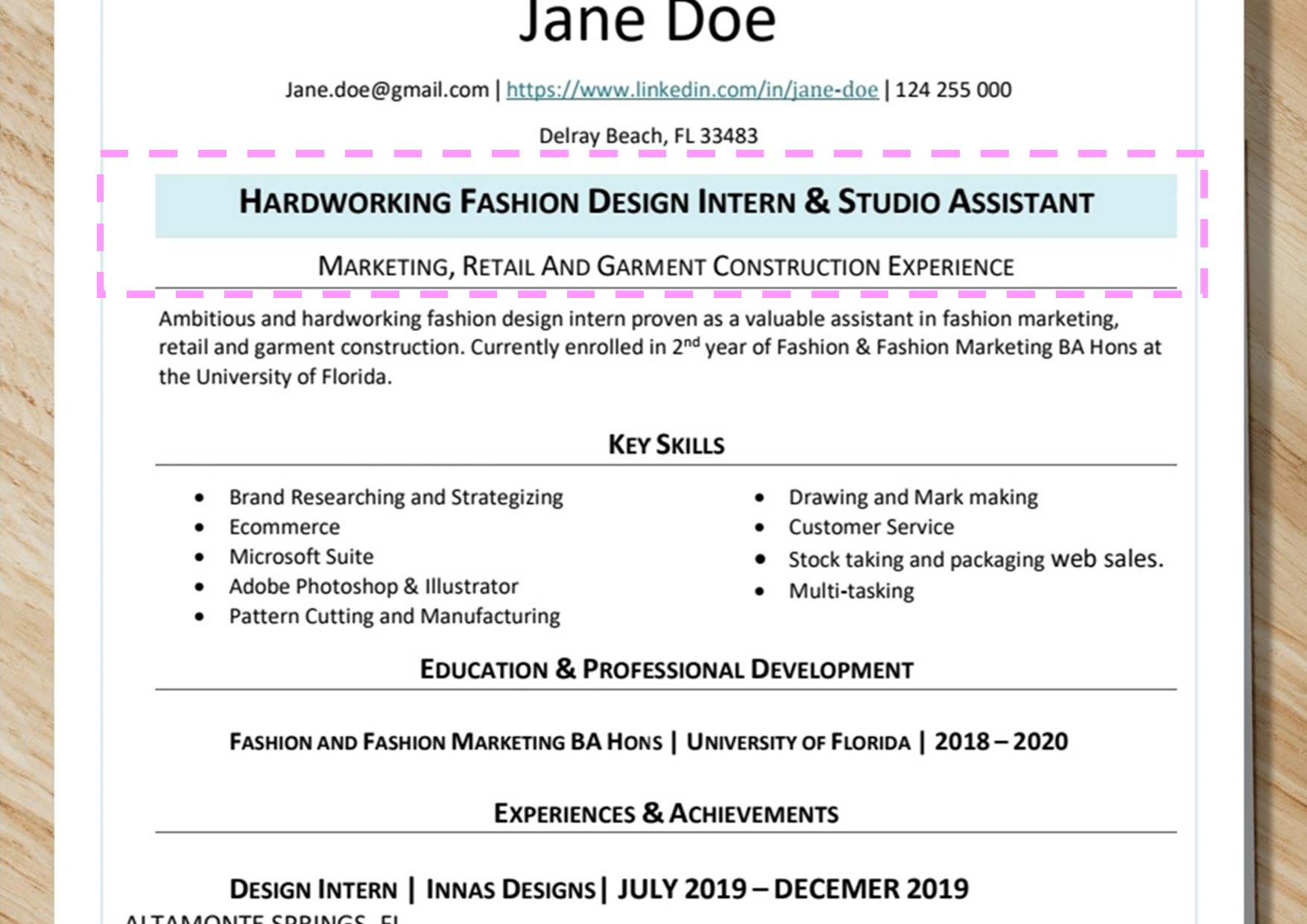 Headline Highlighted In Pink - Fashion Resume Example
A headline should appear at the very top of your fashion resume.
It'll usually appear right after your personal contact information.
Strangely, some candidates still hand in resumes without a headline.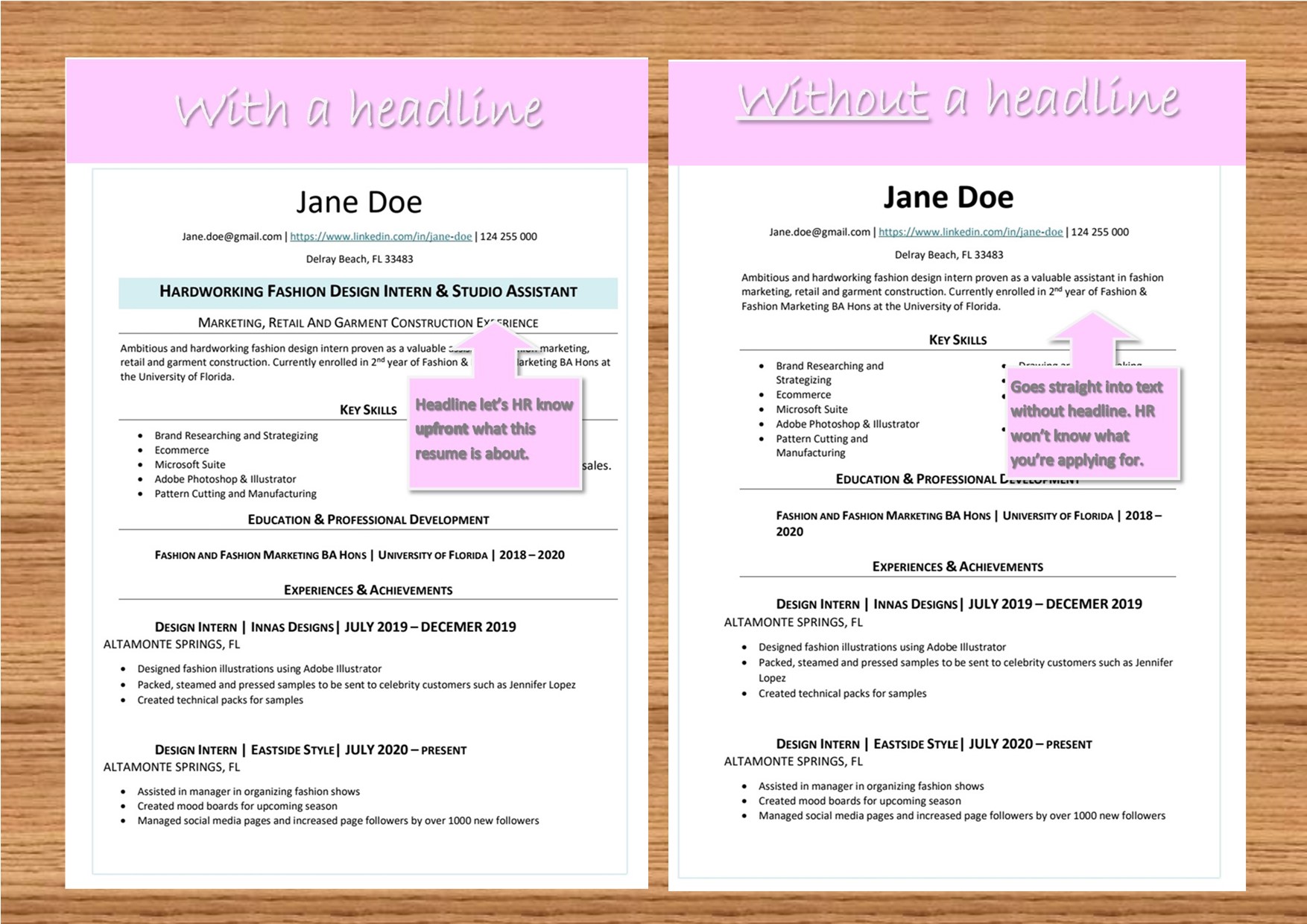 Fashion Resume Examples With & Without A Headline
Without a headline, you give hiring managers no reason to read further, because you would have given them no indication of what they were reading.
Hiring managers are notoriously busy people.
Perhaps screening hundreds of applications, a day.
For various roles.
They're not going to take the time to figure out which pile your resume should fit in.
That's why your resume goes through the ATS first to make their job easier.
Remember the ATS?
It's kinda like a Google search in the company's data base for which applicant seems most suited for the job.
Even then, there will still be many resumes to go through manually.
Think about it like this...
You're a busy person looking to grab some groceries on your lunch break.
There are 2 shops side by side.
In one shop window, all you could see was cartons of unmarked boxes.
In the other, you can see the items neatly set out in the open and clearly labeled.
Why, you can already see the items on your list from where you stand.
Which shop are you likely to go in on your 30-minute lunch break?
Will you go into the first store and take the time to figure out what's in each box without even knowing if they have what you are looking for?
No.
More importantly, neither will a hiring manager.
They'll skip over your resume and go for the one that's clearly labeled with a headline.
So, what makes a good headline for a fashion resume?
2 things…
A job title and
What is unique about you?
At the very least, write the job title at the top of your resume.
But that's what every other well-informed candidate will do.
So also include what is unique about you as a candidate, for example
Fashion Designer With Graphic Design Expertise
Or
Fashion Intern With Retail Experience
Step 3: Summary Or Career Objective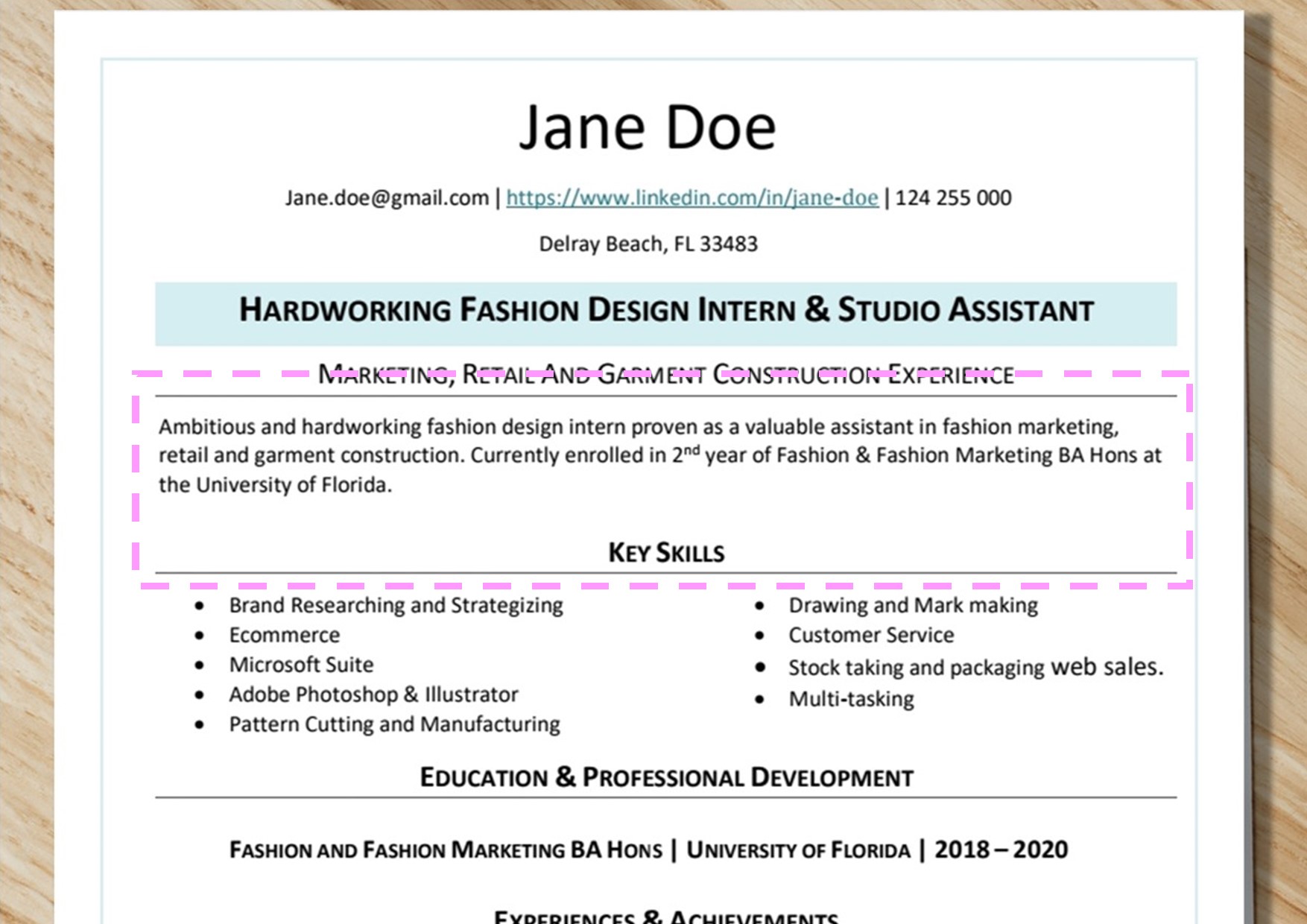 Summary Highlighted In Pink - Fashion Resume Example
I've already talked about why you shouldn't have a career objective, but for the sake of the people who still call a summary a career objective please refer to the What's Wrong With My Fashion Resume checklist.
Unlike other parts of your resume, a Summary need not be labeled.
However, Tim Windhof, an executive resume writer and personal branding expert, echoes what I have been saying all along…
Avoid boiler plate phrases.
Results driven…
Great team player…
Strong communication skills…
…Won't get you very far. Anyone can claim that.
Instead think of the proof behind such statements that no other candidate can boast of.
Prove that you are as amazing as you say that you are.
For a fashion resume, you might want to talk about…
who you have worked with
where your work has been seen
where you graduated
any awards or rewards you have received
software programs you're competent with
languages you speak
and anything else that sets you apart specifically...
Step 4: Key Skills Section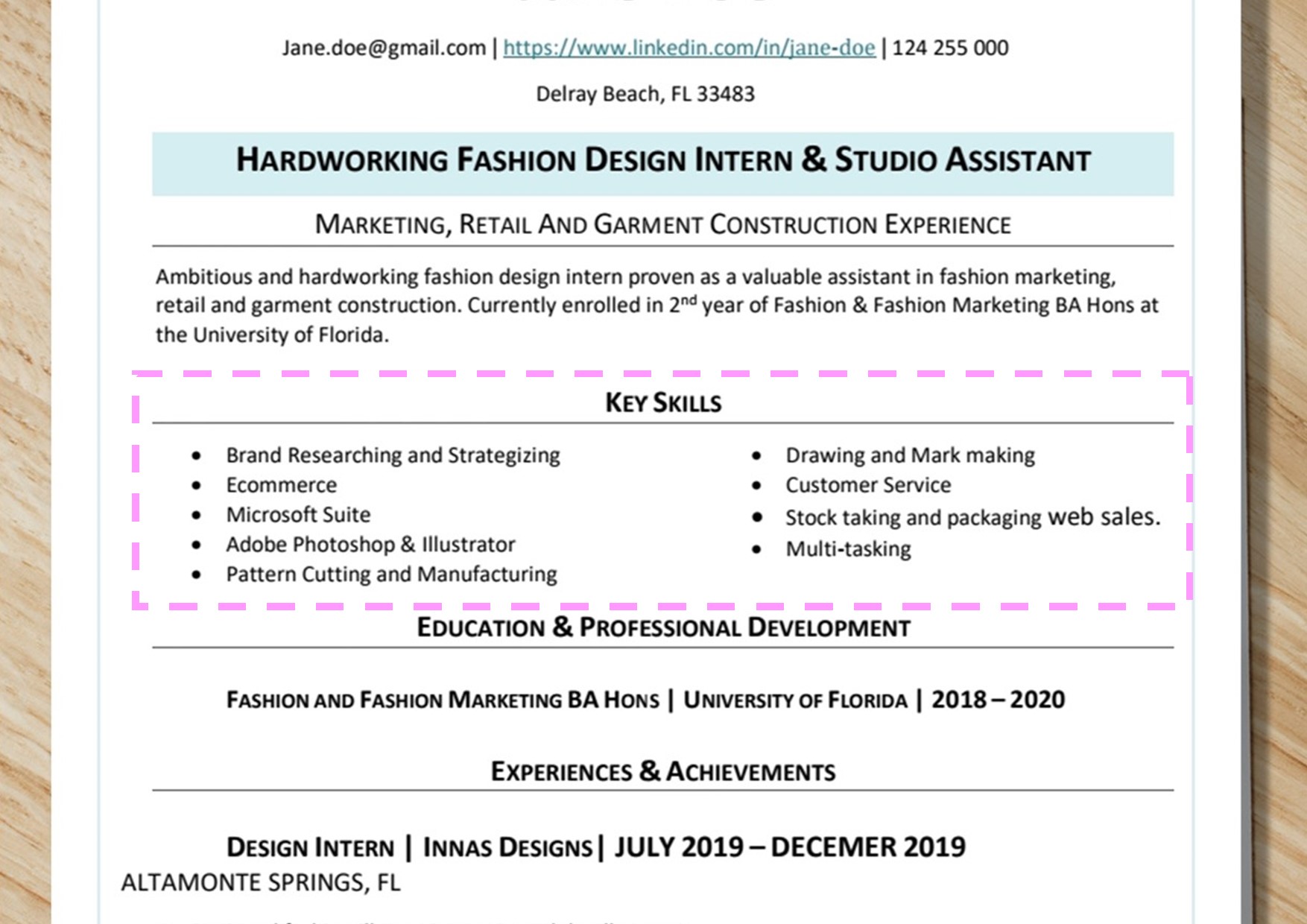 Key Skills Highlighted In Pink - Fashion Resume Example
Just what are key skills?
I like to think about them like the keywords that you'd use in a Google search.
Rest assured; companies do sift through and rank candidates in a data base the way Google brings up search results for a pair of shoes on Amazon.
That's what they use an ATS system for. Especially in larger organisations.
If a job specifically asked for someone who could speak a certain language like French, that would be a key skill.
If a job asked for use of a certain software, that would be a key skill.
You need to study the job post to know what they are asking for. If you're not sure how to study a job post, in each of the fashion resume examples on this site I take you through it.
Also note that there are 2 types of skills.
Technical job specific skills: These are skills gained directly from doing a certain job. In the case of fashion- sketching, use of adobe illustrator, sewing, technical packs etc
Transferable skills: These are skills that you learned in one role that will still be useful in another role such as easy to work with, following directions, no ego, time management etc.

So do include both.
Step 5: Experience Section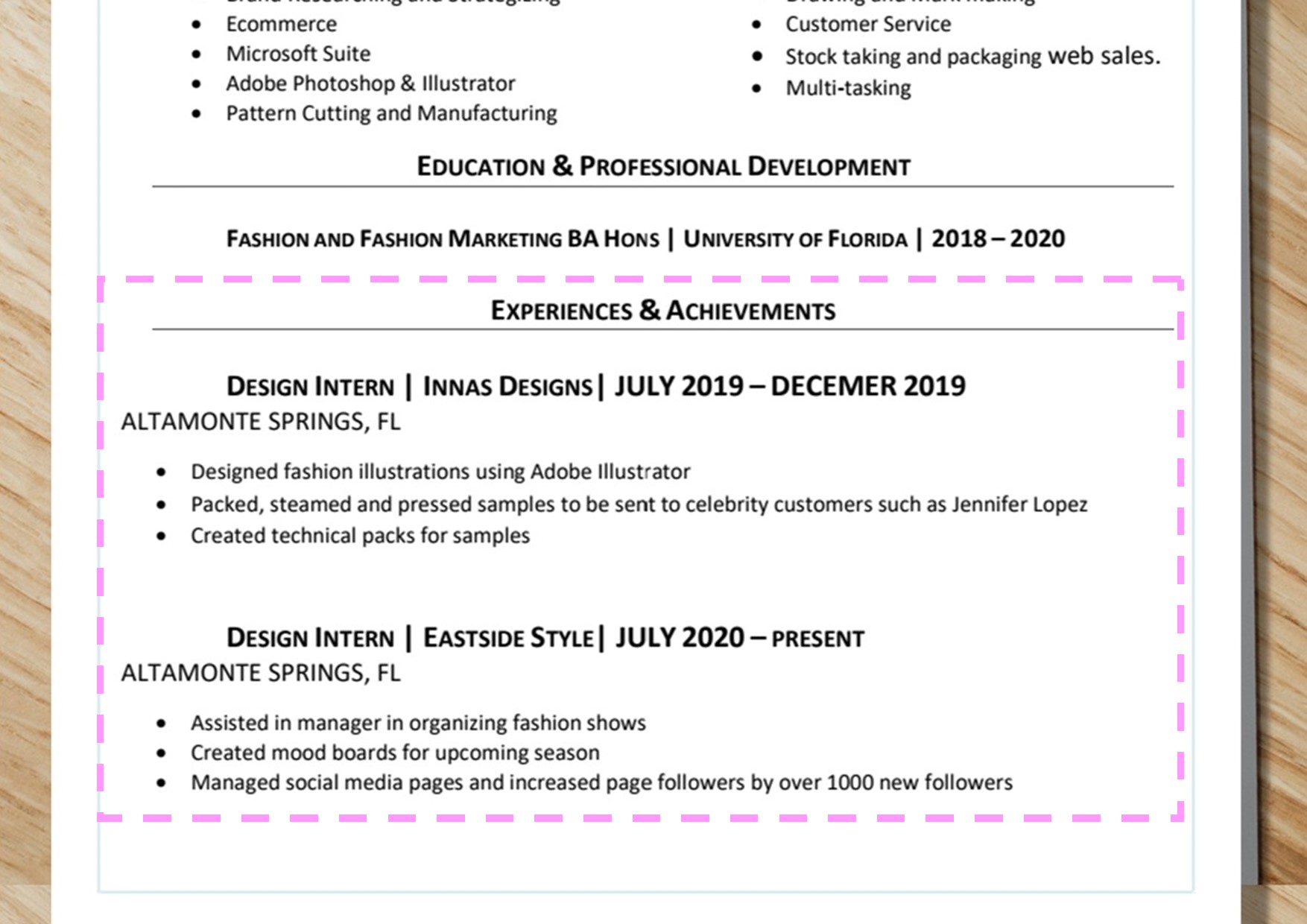 Experience Section Highlighted In Pink - Fashion Resume Example
In this section, you'd list any paid work and/or internships you've held.
For each position, begin with the…
Job title or position
Name of employer
Dates of employment and
Location
Only list experiences that prove you're a good fit for this job post.
For example, ...
Maybe you were a server at a fast-food place.
It may not be relevant, but right out of college it may be all you've got.
Rather than using a heading Work Experience, go for a heading like Campus Engagement, Volunteering And Work.
List the jobs you have held rather than go onto detail about each. Even if they are unrelated to this role, they will show that you have been doing something.
Bottom line: do you best to get some industry experience.
If you have none, then even with a degree, look for internships as well as jobs.
This is not a step back, it's a step in the right direction.
If you do already have experience, great.
You need to show you have done this kind of work before.
Mention things like…
Which software you worked with
What were your Interactions with clients?
Who did you report to and how often?
Remember your power words and to use consistent tenses throughout your resume.
Step 6: Education
& Professional Development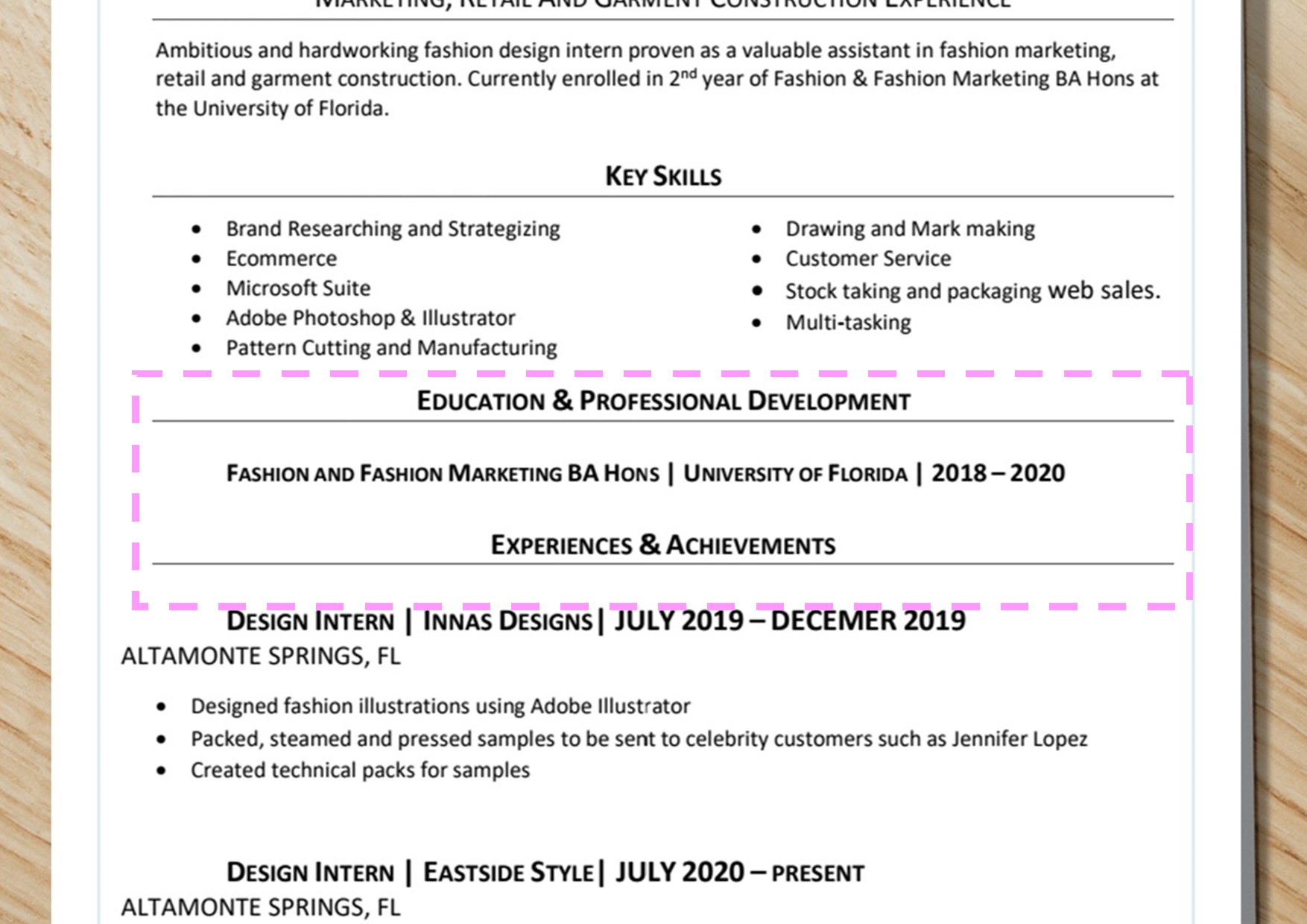 Education & Professional Development Highlighted In Pink - Fashion Resume Example
As an intern or new graduate, your education should come before your work experience - which may not be that much.
For each item, do include the…
School
Course studied with qualification (BA, BA Hons, etc) and
The dates for when you studied
Do also include any other courses that count as professional development like Adobe illustrator course, or fashion specific short courses that are relevant to the role.
Do list your degree first, and then the other smaller courses can follow after that.
If you have no work experience: include relevant modules you covered in your degree that will be useful to this role.
Step 7: Finishing Touches
At this point, the content of your resume is complete, but you're not done.
This is the point where we should discuss…
What NOT to include on your resume and
Templates or the look and feel of your resume
What NOT To Include On Your Fashion Resume
Yes, there are some things that should be left off your resume.
Contrary to what too many free resume templates publish, the following should NOT be on your resume…
╳   References available on request
╳   Career objective
╳   Hobbies
In addition to…
╳   Low or below average GPAs
╳   Political views and conviction
╳   High school*
*even as an intern, high school can really be left off. Especially with a degree, high school is a given. So you can leave it off.
Templates
Please don't worry about the template until you have focused and finalized the words on your resume.
Yes, your resume should look good, but a resume is a business document.
Creativity is to be showcased in your portfolio.
So go for something clean and legible.
Here are my top tips…
Dark words on a light background will always be best.
Avoid graphs and tables to show your skills
Never rate your skills
Headshots do not particularly help your chances, especially when hiring managers are trying to be impartial. But they are more common in certain regions like Europe.
---
KEY POINT: Design & aesthetic rules can always be bent or broken. But this should not consume all your time. In the case of your resume, content is key.
---
And that about wraps up how to write your fashion resume!
If you really want to be thorough, you can check out my What's Wrong with my Fashion Resume article and check it against your finished resume.

Help is at hand!

You might follow this guide but still wonder if you've got your resume right. That's why I created a Resume Critique And Rewrite Service.  With this service I'll…
Make edits directly onto your resume
Include my personal notes & explanations as to why I made the edits I made
Provide a before and after version of your resume
PLUS: Give you the fully edited version of your resume