Sample Resume For Fashion Design Student
+ Detailed Walkthrough
If you Googled Resume for Fashion Design Student, the internet probably brought back a bunch of results that were of no use to you.
And that's sad. Because this'll probably be the first time you write a resume, so a lot of it may be very new to you.
As excited as you must be to gain industry experience, fashion internship options may be low.
That and the added pressure that you just need something so you can graduate, you might be taking whatever you can get.
HINT: Fashion merchandising/retail roles are easiest to get into. Even as a full-time job. Though retail roles might not be your dream job - unless you were perhaps working in high end fashion - you can use this role to work your way up in a company. So they're still worth it.
Sample Resume For Fashion Design Student
Below is a resume that I created in response to this internship from luxury retailer RAEY. This internship is a classic example of what might be available vs what you may have expected or hope to find.
As a fashion design student, it's important to understand the whole supply chain and see how fashion design fits into the larger picture.
That is to say, just because you studied fashion design, that does NOT limit you to fashion design roles. This is good news.
Having said that, there will be two categories your resume will fall into as a fashion student…
One with relevant experience
One without relevant experience
Most popular
Resume Review/Critique
I'll go over your resume and create a personalized 10 - 15 minute video review that you can watch as many times as you need to.

$21

Preparing To Write YourYour Fashion Design Student Resume
Career Coach's Notes: For the most detailed instructions on how to write each section of your resume, please refer to this fashion resume how-to guide I created for you.
When you use it, give yourself ample time to learn how to write a resume. I recommend a full 7 days.
Better to write your resume well over a few days, than to write it badly over a few hours. In this article, I'll briefly go over why I wrote each section the way I did with the assumption that you'll refer to the how-to guide for more instructions.
First Things First
IMPORTANT: the internship/job that you're responding to is what will guide how you write your resume. Most resume writers don't talk about this. But I like to focus my method around a proper study and understanding of the job post.
The first thing I do is copy and paste the job/internship post into a word doc. So we can study it in depth.
For this example, we'll be looking at an internship from the luxury retailer RAEY.
For your convenience, I also created a downloadable copy of the internship that includes my personal notes.
For these instructions to make the most sense, open up either the online version of the internship or a downloaded copy in another window on your laptop or on another device. That'll make it easier for you to follow along.
How To Study A Job Post
Optimize your resume
Resumes are sorted and filtered just like search results on the internet. When you optimize you resume, you use the same words and terms on your resume that the company is searching for to separate candidates it will consider vs those they won't.
Step 1:
Begin to highlight any keywords that stand out to you. Keywords are any jargon and technical terms associated with a job.
I highlighted what I found important in pink in the online and downloadable internship sample.
These words and phrases are what you will use to write and optimize your resume.
Step 2:
Look out for the specifics of this particular role. It changes from company to company. This is a basic overview of what I can see about this internship…
Experience and Education is less important.
Administrative tasks aka office work are involved.
The company is looking for general interest and helpfulness. (We all know that girl that stands in the corner filing her nails claiming that she is working). Don't be that girl.
Now we're prepared to start writing our resume.
HINT: Start your work in a basic word document. Work on the content aka words of your resume first. Worry about templates or how it will look later.
Steps To Writing Your Fashion Student Resume
Let's Start With Your Contact Information
Even though contact information seems very basic, it's still possible to get your resume disqualified on badly written contact information.
There are 2 main areas of your contact information that could make or break your resume. They are your…
Email address and
LinkedIn profile
Please refer to this section of the how-to guide for more details on how to complete these parts.
Once you've done this section right, you can always reuse it in any other resume you're writing. So know that it is time well invested.
*Unless you actually landed a fashion design internship and the position requires one, you can skip including a link to your portfolio.
Move On To Your Experience Section Next
Even though the experience section is usually further down the resume, I like to work on the experience section next.
This gives me a chance to explore all the details of why a candidate is a good fit for a role.
Most articles will tell you to come up with 3 to 4 points that demonstrate your ability to work well in this role.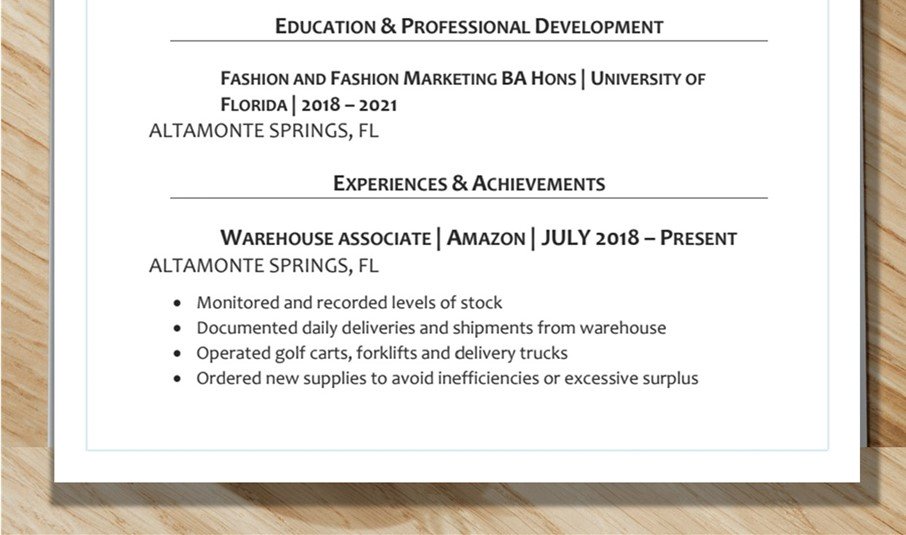 But What If You Don't Have Any Experience?
When it comes to experience, only relevancy counts. So baby sitting and food serving don't count.
So what should you write under work experience?
Rather than using a heading like Work Experience, go for a heading like Campus Engagement, Volunteering And Work.
List the roles you have held rather than go onto detail about each.
See the comparison below.
REMEMBER: We are working out the content of your resume first. I will go over how it should all be arranged in the end.
Most popular
Resume Review/Critique
I'll go over your resume and create a personalized 10 - 15 minute video review that you can watch as many times as you need to.

$21

Write Your Education Section Next
Even though this role isn't necessarily asking for a degree, it won't hurt to include it.
It's a simple matter of putting down the details of your degree and you can move on to the next sections of your resume.
If you have no work experience: list relevant modules you covered in your degree that will be useful to this role.
See the previous image.
Writing Your Headline
The headline I used for this resume was...
Stock Management & Fashion Administration Intern
Just like the headline of an article or even school textbook, a headline should inform the reader that whatever follows is what they are looking for.
So ask yourself...
Is this company looking for fashion students or fashion interns? Answer: Interns

 

Are they looking for regular fashion interns who can do any job? Or have they specifically asked for someone who can work in Stock management and administration. 
You find the answers to these questions by studying the job post.
See how that works?
You may be a fashion student. But in this scenario, it is much more useful to present yourself as an intern.
And even though you might be willing to take any work in the company. It's much better to present yourself as someone who understands what the company needs - stock management and administration.
Writing Your Career Summary Or Career Objective
I only call it a career objective so we can both be on the same page.
However, a career objective is a sure resume killer.
Just like how we created our headline to the benefit of the employer reading your resume. This part of your resume should be summarizing why you're a good fit for the job (a career summary).
NOT stating the obvious about how you wish to work with this company (a career objective).
Think about it. Who isn't looking for a fulfilling role in this company? That only serves.  That would be like a commercial advertising their products with the pitch because our company needs to make profits and needs to make them fast.
But what do commercials do? They tell you what you get out this product.
So what might this company gain from taking you on as an intern?
Writing Your Key Skills Section
Remember all that keyword research we did at the beginning of your resume? You get to use that again in your key skills section.
So, make a list of all the skills you could find – and preferably have- and use around 6 to 8 of them to create your skills section.
If you don't have the skills they're looking for?
Make this section your Key offerings. And list all the qualities you bring to the table.
Drawing To A Finish
By now, you have the content of your resume complete. But how should it be arranged and what about look and feel?
If you have no experience arrange your resume in this order…
Headline
Summary
Key offerings
Education (with relevant modules listed)
Campus Engagement, Volunteering And Work (use whatever is relevant to you)
If you do have experience
Headline
Summary
Key skills
Work experience
Education
Now is the time that you can copy and paste your content into a chosen resume template.
Sorry to say, but most free templates were designed by a graphics person and hardly have any space for quality content. Not to mention unnecessary headings and sections like hobbies. Yikes!
So, I always prefer a minimalist template that sticks to one page.
This is the safest, most professional option.
And now your resume is done.
Hope you find this useful.  Remember if you need more direct help, the best way I can help you is with a resume critique and rewrite.
Most popular
Resume Review/Critique
I'll go over your resume and create a personalized 10 - 15 minute video review that you can watch as many times as you need to.

$21