FIT Fashion School
A Graduate Review
Meet Yuki Evoy, a graduate of FIT fashion school.
She chatted with us about her experience at FIT.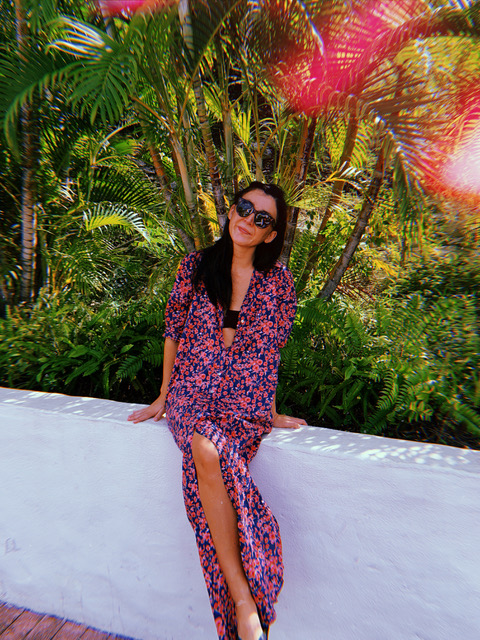 Meet Yuki Evoy, a graduate of FIT fashion school.
Yuki Evoy
Degree: Bachelor of Science in Advertising & Marketing Communications and a minor in History of Art
Year Graduated: 2013
Current: Founder of NewInspired


How supportive were you parents of your decision to study fashion?
From being 12 years old and letting me hang up paper shopping bags from different boutiques on my bedroom wall to picking up Teen Vogue at the grocery store, my parents have always supported my interest in fashion.
For two summers in a row, I attended the Fashion Institute of Technology's (FIT) Summer Live sessions for high school students (something I had read about in Teen Vogue!).
It took a bit of begging to get them to agree to let me go, but they knew my interest in fashion wasn't a passing trend and that this would give me a better insight into the world of fashion.
FIT Summer Live classes are basically a month long session.
You have 1 or 2 "classes" a day (I took 2 each summer) and have final "projects" for them. The first year, I took a styling class and a light business of Fashion class. The second year, I realised that the business of fashion felt more appropriate and took classes that were more business oriented.
After I went to their summer camp, I knew that FIT was my first choice for college.
What was the application process like?
For FIT's business leaning programs, you don't need a portfolio.
All you need are your high school transcripts and a compelling essay, which basically answers "why FIT?" They do not require SAT scores.
My high school grades were not strong, but my essay was.
As a result, I was admitted into the program I applied for, Advertising and Marketing Communications, but in their evening and weekend program. If my grades were good while I was at FIT, I could transfer into the day program.
I graduated Magna Cum Laude with a Bachelor of Science in Advertising & Marketing Communications and a minor in History of Art.
However, I never transferred to the day program. I enjoyed being around students older than me who were all ready working and who felt more serious about their studies.
What was the one thing aspect that met or exceeded your expectation(s) of fashion school?
The professors, the library, and the Museum at FIT.
The professors at FIT currently work or have worked in their field. Some professors also teach at Parsons (Parsons is private and way more expensive vs. FIT is a SUNY school (State University of New York)). 
For example, for Introduction to Journalism, my professor was a senior editor at Women's Wear Daily (WWD) who would arrive to the class straight from work. In retrospect, that is crazy!
FIT's Gladys Marcus Library is unmatched. They have every single resource you could ever want. All FIT students also receive a free digital subscription to WWD and Vogue Archives (going back to the very first issue of Vogue ever published).
The Museum at FIT has won awards for their exhibitions... and rightly so, their archives are vast and you can take classes that go behind the scenes and give you an upfront look at historical garments in fashion (History of Fashion).
If anyone reads this who is currently in high school and interested in going to a fashion college, I would recommend taking FIT's high school classes if you can.
When I first got to FIT as an undergrad, I felt at home... largely due to my experience of going there as a high school student.
The professors for the high school classes are the same professors that you will have as "real" student.
The first professor I had on my first day as an undergrad was coincidentally the same professor I just had the previous year as a high school student... even weirder, after that first day, I went out to dinner with my family. Who was having dinner at the same restaurant? Michael Kors (an FIT alumni). It felt kismet. 
What was the one thing aspect that didn't/disappointed your expectation of fashion school?
Like most things in life, you get what you put into it. 
There are two pieces of advice I'd give to my undergrad self and anyone who goes to fashion school...
1- Ask more questions
Other students likely have the same questions, but don't have the courage to ask the "stupid" questions or simply want the class to end earlier.
2- Make a strong connection with your professors
They will work with you to understand course material better and can potentially help you later in your career.
What internships did you do and where did you find them?
In my junior year, a friend was working at MTV Canada in Toronto and offered me an internship. I wasn't doing anything that summer, so figured, "why not?"
I loved it.
While I was at FIT, I was also offered to be a dresser for New York Fashion Week. This basically means, literally dressing the models, like putting the clothes, shoes, and whatever else on them. Since I'd never tried working in fashion yet, I readily agreed. While the chaos was justified, after all it was the designer's major show at NYFW, it wasn't my cup of tea.
When it was time to do my "real" internship for college credit, I applied to my favourite TV show — Late Show with David Letterman.
You're assigned an internship coordinator at FIT, so I did the application on Late Show's website and then FIT's coordinator emailed them to make sure they got my application.
Somehow I managed to get that internship and I interned at Late Show as one of their music interns.
What job did you get after graduation and why did you pick it?
After graduation, I wanted to work in television in some capacity.
I applied to a lot of jobs, with the help of contacts and LinkedIn, I went on a few interviews, but no offers.
... until I got an email from my internship boss at Late Show saying that his Music Assistant was leaving and he thought I should apply for the job.
A few weeks after the job interview, I started as Music Assistant at Late Show with David Letterman — it was thrilling. 
While it had (almost) nothing to do with my degree, FIT prepared me to be professional, hardworking, and diligent. Seeing the intersection of music and style firsthand was inspiring and something I'm so grateful to had witness.
After Late Show, I worked at another show in Canada and then I moved "home" to Panamá.
When I was home in Panamá, the time was right to pursue something I was, and am, ultimately passionate about... 
You eventually started a fashion blog, what sparked that?
NewInspired was born out of a need for clothing, shoe, and accessories reviews.
In Panamá, online shopping is the only way to get clothes that I want to wear, but there is almost no sizing information online.
To fill that need, I decided to write thorough sizing & quality reviews.
Sure enough, other people also look for that before they buy something online.
"How to style" various pieces is another part of NewInspired.
A lot of fashion blogs online don't explain exactly how you should style a garment, but I enjoy explaining the key concepts of how and why an outfit will work if you wear it a certain way.
All the income NewInspired earns from advertising or affiliate sales gets reinvested in new content. Instead of waiting until I save enough money, this allows NewInspired's content to stay current and fresh.
Any future plans in fashion?
My main goal now is to continue growing NewInspired.
Going back to FIT and completing a certificate program or two interests me a lot.
It's been 8 years since I graduated and there are so many classes that I'd like to take or re-take.
... and these courses could help take NewInspired to the next level!
About FIT Fashion School,
People Also Ask…
Click the following links to take you to quick answers for the following questions within this article.
The links below will take you off this page and onto the relevant section of the page about FIT fashion school on this page New York Fashion schools (the affordable public edition).
But first, I have a FREE Gift for you!