Fashion Internship Resume

The Worst & Best
Objective Examples I've Ever Seen
Whenever I'd hand in my fashion internship resume, I'd always assume that everyone else's resume was better than mine.
That was until I started reviewing resumes professionally.
I then realised how much all interns struggle to write their resumes, especially when it comes to creating their resume objectives.
So in this article, I've compiled the worst Fashion Internship Resume Objectives I've ever seen as well as a few examples of how I write them now as a professional resume writer.
The Worst Fashion Internship Resume Objective Examples
Currently seeking…
In spite of the numerous examples of resume objectives that include the words currently seeking, there are several things wrong with using this phrase when creating your resume.
Simply put, this statement goes against the most basic principle of getting an employer's attention.
Of course, you're currently seeking a fashion internship position. So is every other person sending in an application.
Blending into that pile is a big no-no when you're trying to land an internship.
No objective at all
The only thing worse than a currently seeking resume objective is not having an objective at all.
Leaving out your resume objective is a wasted opportunity to convince this company that you should be part of their team. An opportunity you can't afford to miss.
The essay
Last but not least, is what I call the essay. Paragraphs of text that would be more suited to a cover letter than a career objective. Your objective should really only be 4 to 5 lines of text maximum.
So now that we've seen what we shouldn't be doing in our fashion internship resume objectives, now let's look how a professional resume writer would advise you to write them in the first place.
The Best Fashion Internship Resume Objective Examples
I have three examples for you as text and visuals so you can see how they jump off a finished resume.
Fashion Stylist Intern Resume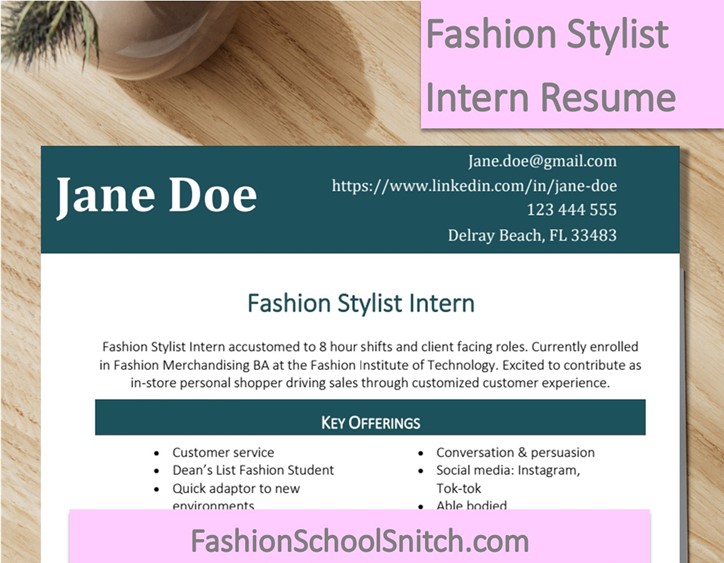 Fashion Stylist Intern accustomed to 8 hour shifts and client facing roles. Currently enrolled in Fashion Merchandising BA at the Fashion Institute of technology. Excited to contribute as in-store personal shopper driving sales through customized customer experience.
Fashion Designer Internship Resume
Hardworking intern designer proven as a valuable assistant in computer aided design & garment construction. Graduate of Fashion & Design BA Hons at the University of Florida with lingerie specialization.
Fashion Marketing Intern Resume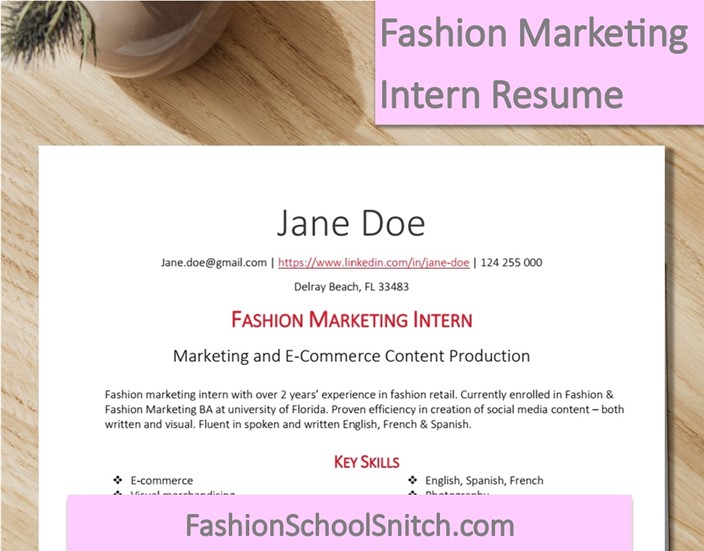 Fashion marketing intern with over 2 years' experience in fashion retail. Currently enrolled in Fashion & Fashion Marketing BA at university of Florida. Proven efficiency in creation of social media content – both written and visual. Fluent in spoken and written English, French & Spanish.
Note: NEVER just copy an objective or any part of your resume from something you saw online. You always have to optimize your resume according to the job description of the role you're applying to.