Fashion Schools in North Dakota
Cheap Fashion Schools in North Dakota

North Dakota is another cold state offering just one fashion school with a 4-year bachelor's degree in fashion design & merchandising. That would be at the North Dakota State University - a public 4-year school.
North Dakota State University has a reciprocity agreement for Minnesota residents. This means Minnesota residents can pay lower fees like North Dakota residents. Similarly, lower fees are also available to Montana, South Dakota, Manitoba, and Saskatchewan Residents.
Now let's take a look at the school.
North Dakota State University
First things first. Let's start with a treat...
Who better to tell us about NDSU that someone who has actually graduated from there and created a successful career?
Let's meet our graduate.
Interview with the Graduate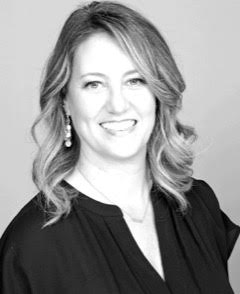 Britta Cabanos: Class of '90 Graduate of NDSU
Britta Cabanos
Graduated: Class of 1990
Degree: Apparel, Retail Merchandising & Design
Current: Director at Creative Capital Design and Founder & Chief Editor at InsideFashionDesign.net
Educational Background
Q: How old were you when you graduated high school?
A: 18
Q: What interest in fashion did you have then?
A: I was totally interested in Fashion.  I learned about FIT when I was 15 years old from a college professor, who told me that NDSU had a study program there. So from 15 years old, I knew I wanted to attend NDSU and do the study program at FIT.
Q: Before your degree, what did you think you would study?
A: I was always interested in art and also learned to sew when I was young, so I had an interest from early on.
Q: What made you pick this particular degree?
A: I chose Apparel and Textiles so I could also apply that to Fashion Design, which I got a degree in from FIT (Fashion Institute of Technology).
During the Course
Q: What were your first impressions of the curriculum?
A: Well… I didn't know any different, so it seemed that it was what I needed to go into fashion.  It did prepare me for FIT (Fashion Institute of Technology).
Q: What were your favourite things that you studied during the degree and why?
A: Historical dress and costume - also textiles. I love history and this was a great way to combine two loves. I loved all my apparel classes - I love learning and enjoyed being a student.
Q: What were your LEAST favourite things that you studied during the degree and why?
A: Math… But that was a requirement. 
Career Prep
Q: During school, how often/how soon did you start thinking about getting a job?
A: Immediately… My goal was always to become a designer, so I always had my sights on landing that first design job.
Q: What was the job hunt like?
A: I was living in New York City because I finished my studies at FIT- so they help students find jobs and it was easy at the time.
Q: What job/role do you have now?
A: I run a business with my partner- a design consulting studio.  We both left corporate jobs after 20 years in the industry and wanted to start our own, women run design company.  I do design direction, work with clients, and also founded and run Inside Fashion Design - an online resource for the apparel industry.
Q: What's a typical day like at work?
A: Every day is different because we work with different clients.  For example, currently we are working on a cosmetic bag project, an outdoor gear project, a line for new mothers and also men's swimwear.
Q: Anything in the degree that particularly helped in your role now?
A: It's been several years so it's hard to pinpoint one particular thing. But I can say that having projects with deadlines was a great way to figure out how to meet all the criteria required, how to execute a project well, how to present it and take constructive criticism. Those were all things that are needed in the real world.
Q: Is there anything about the degree that you would now consider irrelevant/less relevant to what you do now?
A: I can't think of anything…. I was at NDSU in 1985-1990 and at that time, it was all relevant as I imagine it is now as well.
Advice for Students from Britta...
Get an internship of any kind related to the industry: The more you can learn about the different aspects of it will help you in the work force, even if it's not specifically what you want to do.
Learn as much as you can about different roles from people that are working in those positions: You need to understand different aspects (of the fashion world) and how each of the roles plays a part in the world of fashion.
Be open to listening from your superiors: They have knowledge and experience and wisdom.
Find a mentor if you can!  I still have mentors even after doing this 20+ years… Keep learning!
Go the extra mile: Take development courses, seminars, workshops
Be prepared to work hard: Expect long hours and hard work in the beginning - its normal. And if you stay dedicated and positive, it will pay off.  Employees will notice positive attitude and energy, even in stressful situations and will appreciate it, and those will lead to good references down the road.
Don't expect it to be easy: But it does get easier with experience.
Build good relationships: Those become your network and resources for years to come.

About the School
North Dakota State University - NDSU for short - has a mid-size campus in an urban setting.
In the Department of Apparel, Merchandising, Interior Design, and Hospitality Management, NDSU offers the
The program splits into two options of apparel and merchandising.
The good: 93% of reviews were positive simply calling the school a great place to study.
The bad: The cold, that the school was football oriented – and that left non-sport students feeling a little neglected - and no financial aid for out of state or out of neighboring state students.
But when I reached out to NDSU directly and asked about financial aid, I was told in an email by Admission Counselor Cory Schlack "Financial aid is available to out-of-state students. (Students) may receive Federal Financial Aid through FAFSA and/or scholarships from NDSU directly."
In addition, North Dakota State University has a reciprocity agreement for Minnesota residents. This means Minnesota residents can pay lower fees like North Dakota residents. Similarly, lower fees are also available to Montana, South Dakota, Manitoba, and Saskatchewan Residents.
One thing that I did find cool on the NDSU website was that they did mention out of state study and ties to the Fashion Institute of Technology - FIT- in New York. You can read my review of FIT here.

Last but not least, especially for Fashion students NDSU has the FASHION, APPAREL & BUSINESS ORGANIZATION (FABO). They do a really big runway show each year featuring a lot of apparel designed by NDSU students and local retailers. Check out their 2018 RUNWAY SHOW here.
Let's take a look at your budget...

Cost to Attend Fashion School in North Dakota

Tuition
I appreciate that the NDSU cost of attendance page is very clear. For the fashion course, look at the very top row - Base Tuition. There you can see the tuition costs for the different groups.
Here are some screen shots below.

NDSU Tuition
Fees, Housing, Meal Plan & Books
On the same cost of attendance page, scroll down to see the fees. Also very clearly presented.
For international student fees there is a pdf download available. But everything is basically the same except for tuition.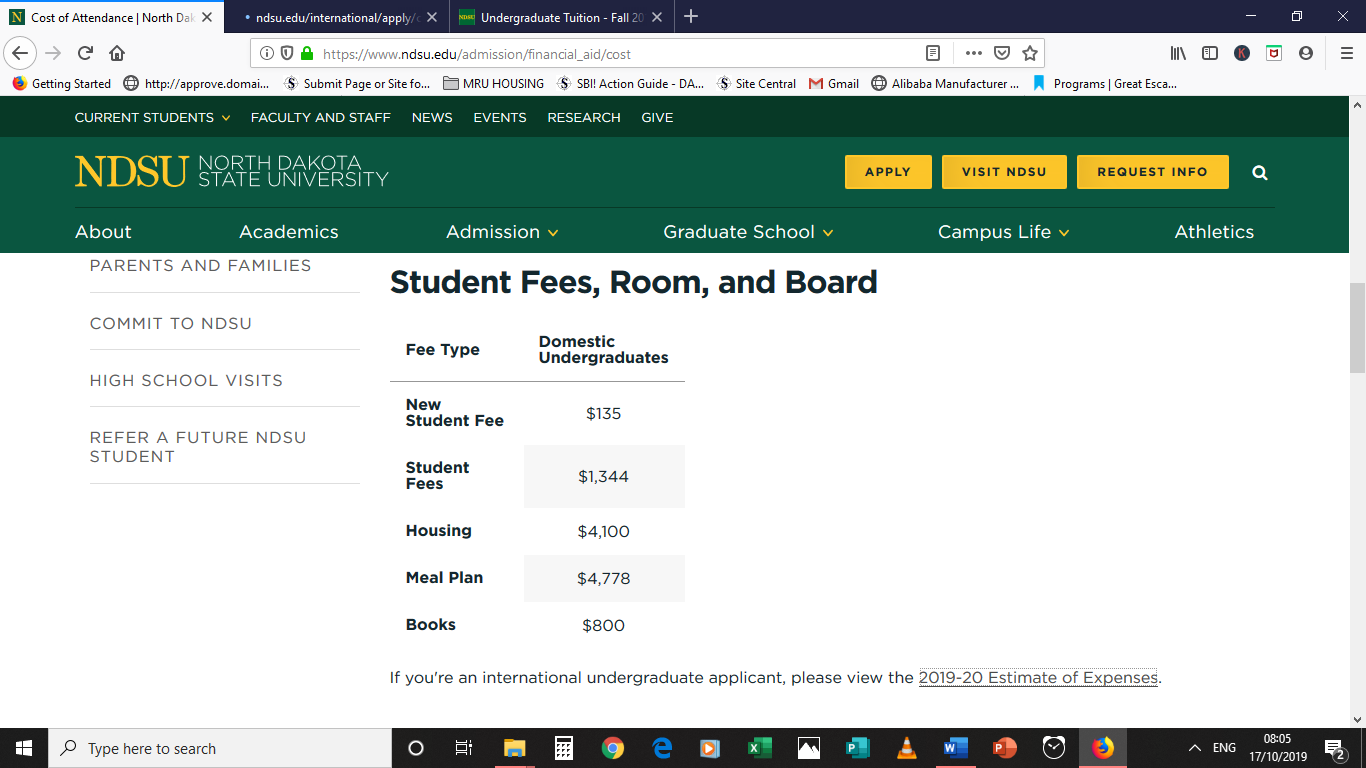 NDSU Fees, Housing, Meal Plan & Books
Health Insurance
NDSU doesn't seem to have a student policy. They just suggest some providers but do encourage you to research more. You will need to have your own health insurance so that in the event that you use the student health service, they will submit claims to your health insurance. So, make sure that whatever you have can cover these visits or otherwise get stuck with the bill.
Final Thoughts on Fashion Schools in North Dakota
I think the North Dakota State University offers a great opportunity for people looking for fashion schools in and around North Dakota. Even though North Dakota is by no means a fashion capital, I like that NDSU has ties to FIT – the Fashion Institute of Technology in New York. That makes sense for fashion students.
On the website they also point out how graduates of their course have branched out into different areas of fashion. That's helpful when it comes to picking what to study now in view of what you might want to do later.
Lastly, this might have nothing to do with anything, but I prefer this school to the South Dakota State University. Read my South Dakota State University review here.  Just on first impressions alone, how they represented their school and fashion course, I prefer NDSU. Just saying.
But what do you think? Let us know in the comments section below.

As for living in North Dakota? Here are screenshots of the cost of accommodation...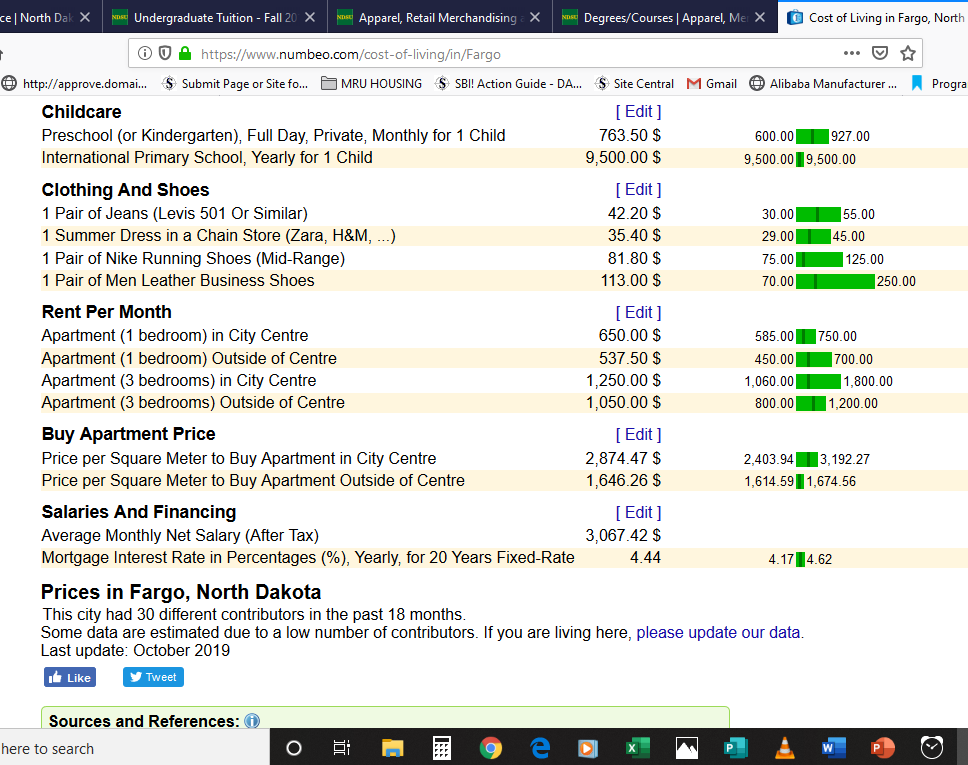 Cost of Living in North Dakota: Accommodation & Rent
"The weather is bipolar," one reviewer said swinging from cold to warm then rainy. So, it would be best to have a car to get around, even with a comparatively low cost of living.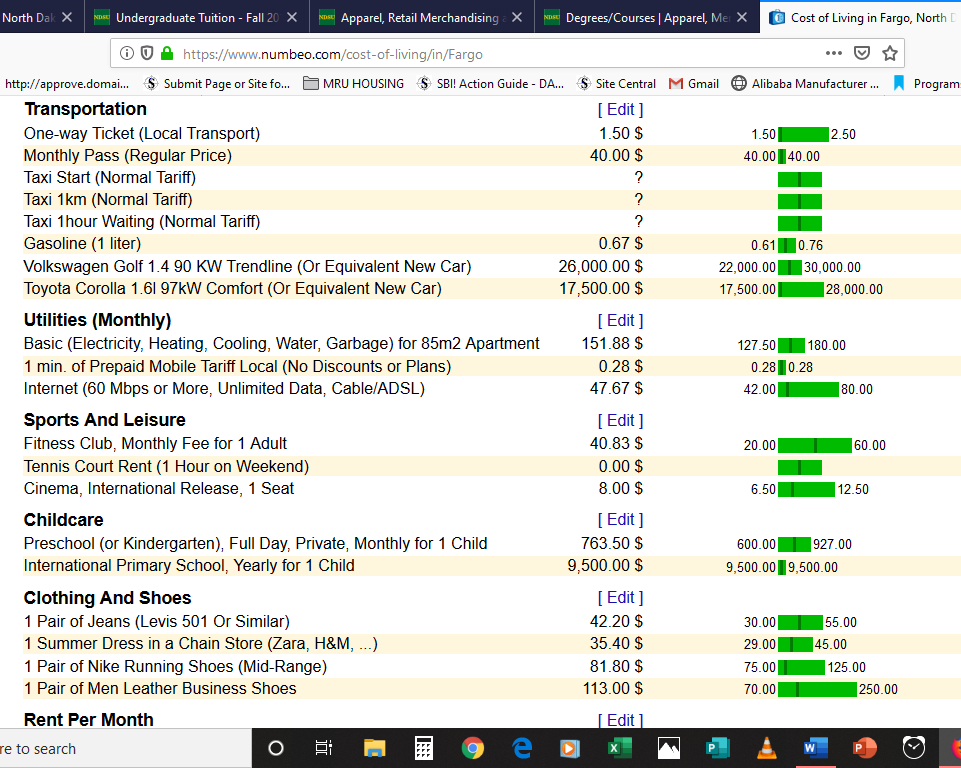 Cost of Living in North Dakota: Transport & Utilities
And of course, food…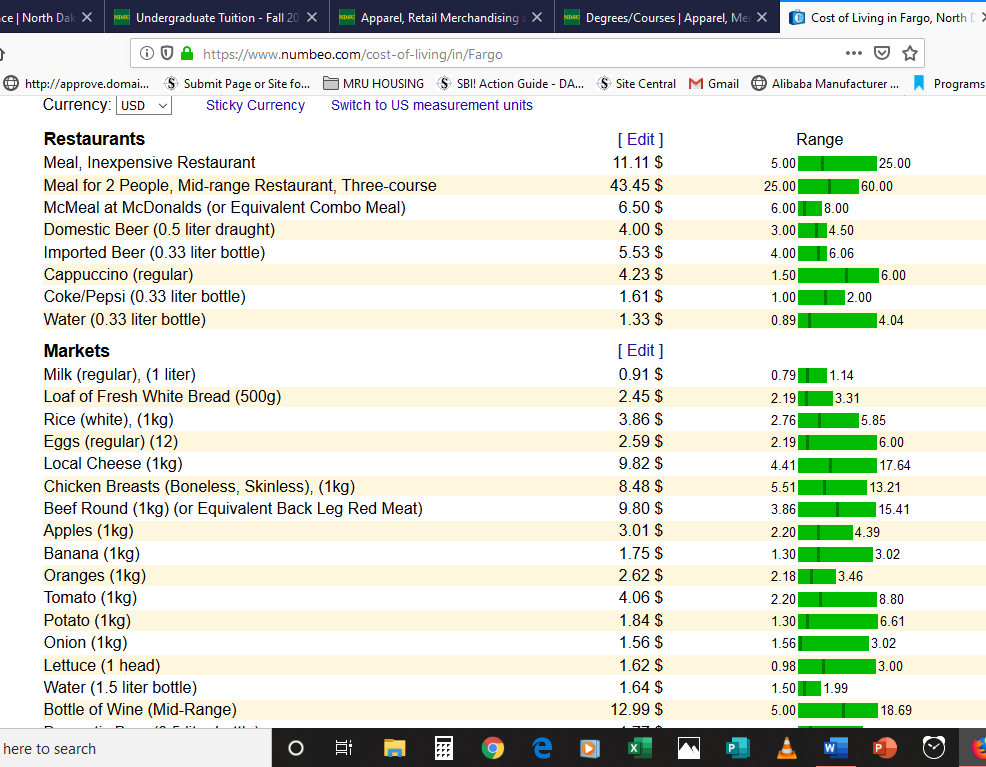 Cost of Living in North Dakota: Restaurants & Markets
That's it for this fashion school review. I hope it helps!