Resume Headline for Fashion Designer
Best Resume Headline For Fashion Designer
Plus 4 Examples
What would it take to create the best resume headline for a fashion designer?
To find out, let's dive a little deeper into what it takes to write a resume headline for a fashion designer.
Writing a resume headline is the 2nd step covered in The Fashion Resume How-To Guide. You can refer to that part of the guide here.
As you may know by now, I always begin with copy-pasting the job post I'll be writing a resume in response to into a word doc. I do this so I can study the job post in depth and make some notes. This is a practice I highly encourage you to do when writing your own resumes as well.
There's a sort of formula I use to create great resume headlines.
So how do we find these three elements?
Job Titles
I made a video about something I call job title syndrome. What it talks about basically is how sometimes we call a job by a certain title, but the company you are applying to calls it by something else.
This can be the difference between using the term fashion designer on your resume while the job post calls it assistant designer. This becomes important when we consider keywords as discussed below.
And you will also get to see what this looks like in the examples I will take you through further into the article.
Keywords

Keywords and phrases are basically the specific words and phrases that the job post will use to describe different aspects of a position. It takes a little practice to identify them. I'll show you what I mean in the examples down below.
Unique Value Proposition
This is the big reason why a company should choose you over another candidate.
Think about it like this. Writing a resume is a lot like creating a one- or two-page marketing campaign for yourself.
You, being the product. And the company where you are hoping to work being the customer.
So just like there may be many fashion brands out there, why do you love the ones you love?
That reason is their Unique Value Proposition.
Now what's yours?
Just like any other marketing campaign, the success of your resume is dependent on accurate targeting and customization of your messaging.
To prove my point, we'll look at 4 examples of job posts that came up in a job search for fashion designer on indeed.com and how to create a resume headline in response to each.
Example Resume Headline For Fashion Designer #1
Let's look at this job post from Savage X Fenty for an associate designer that I used in the Creative Resumes For Fashion Designers Example.
I went with...
Associate Designer Of Body-Inclusive Lingerie
Computer Aided Design And Garment Construction Experience
Key points:
Notice that while most resume templates online would have titled this as FASHION DESIGNER, I did not. Why? Because that term or keyword was not anywhere in this particular job post that you can view here.  Rather they referred to this position as associate designer so that is the language that I chose to use.
Notice I also have an extensive resume headline that is a lot more than just a job title. I captured what kind of design this person does as well as including a Unique Value Proposition that I will talk about more in the next point.
UVP or Unique Value Proposition. What is it about this candidate that stands out? In this case it was her experience with Computer Aided Design And Garment Construction.
If you're wondering how I picked out keywords from this job post, download a copy of the job post along with my personal notes here. And now let's look at another example.
Example Resume Headline For Fashion Designer #2
This is another position as an assistant designer with a brand called Pacsun. But in this company, the requirements for the same role are rather different. Pacsun is a completely different brand from Fenty so handing in the same resume with the headline we created before will do you no good.
These are screenshots of my study of the job post. Please look at the lines I highlighted carefully and compare what you would've come up with as a headline.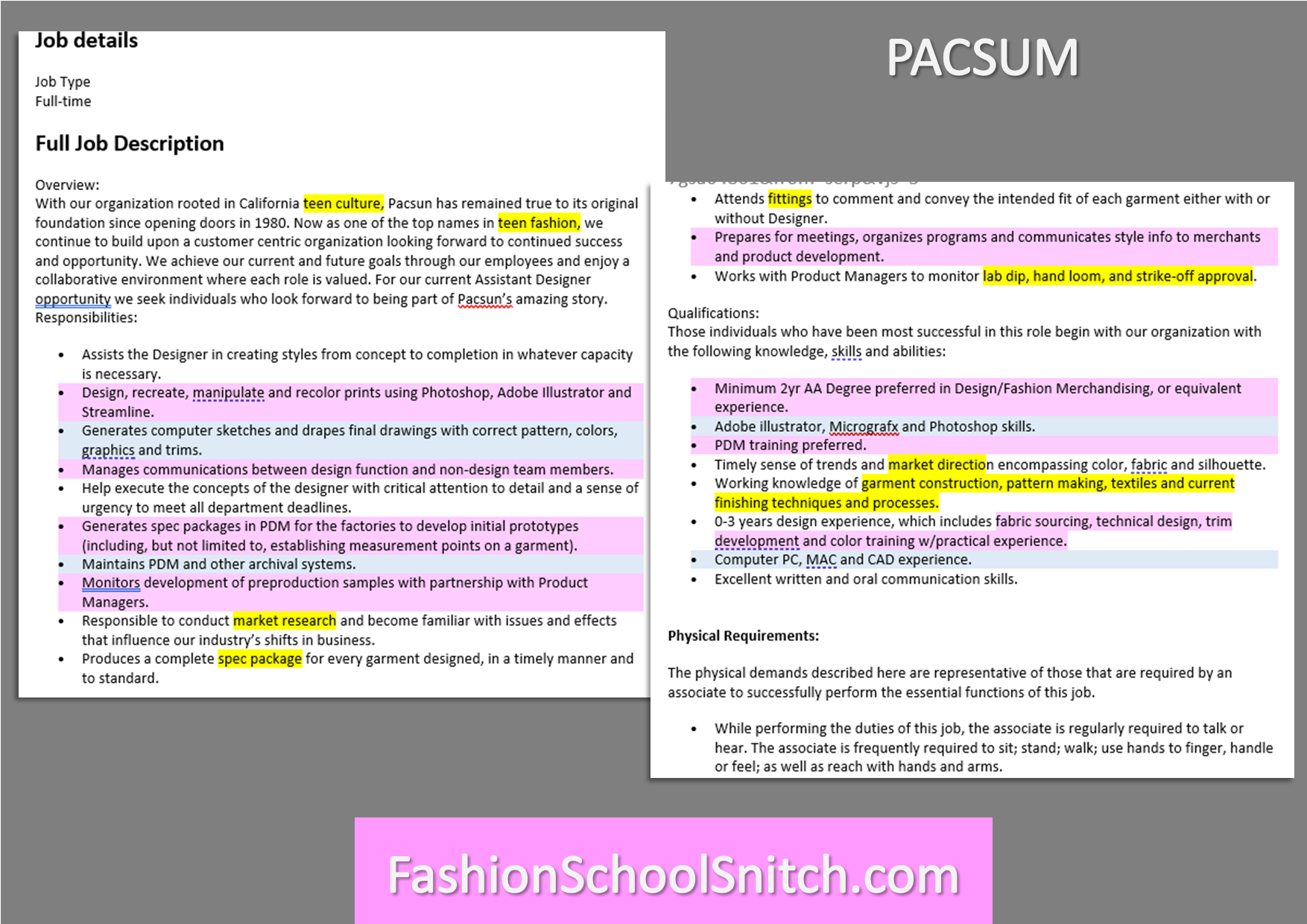 Example Resume Headline For Fashion Designer #2
For this role, based on the above key word research I would go for…
Assistant Designer For Women & Teens
Technical Design • Computer Aided Design
Key notes:
Comparing the first 2 examples, I hope you can see that designing for different niches, for example lingerie versus teen fashion, will need a specified resume headline. The general FASHION DESIGNER won't do.
Note that for this job post, it's clear to see that technical design & CAD are really important for creating this company's product so this is why I included them in the resume headline.
Next example…
Example Resume Headline For Fashion Designer #3
Now look at this job from Calvin Klein.
In this role, 3D design is very important.
Again, the product that Calvin Klein produces will be very different from a Fenty or a PACSUN.
Are you beginning to see why you need to customize your resume to each and every job you apply to?
This is a peak at the study I did of the Calvin Klein job post...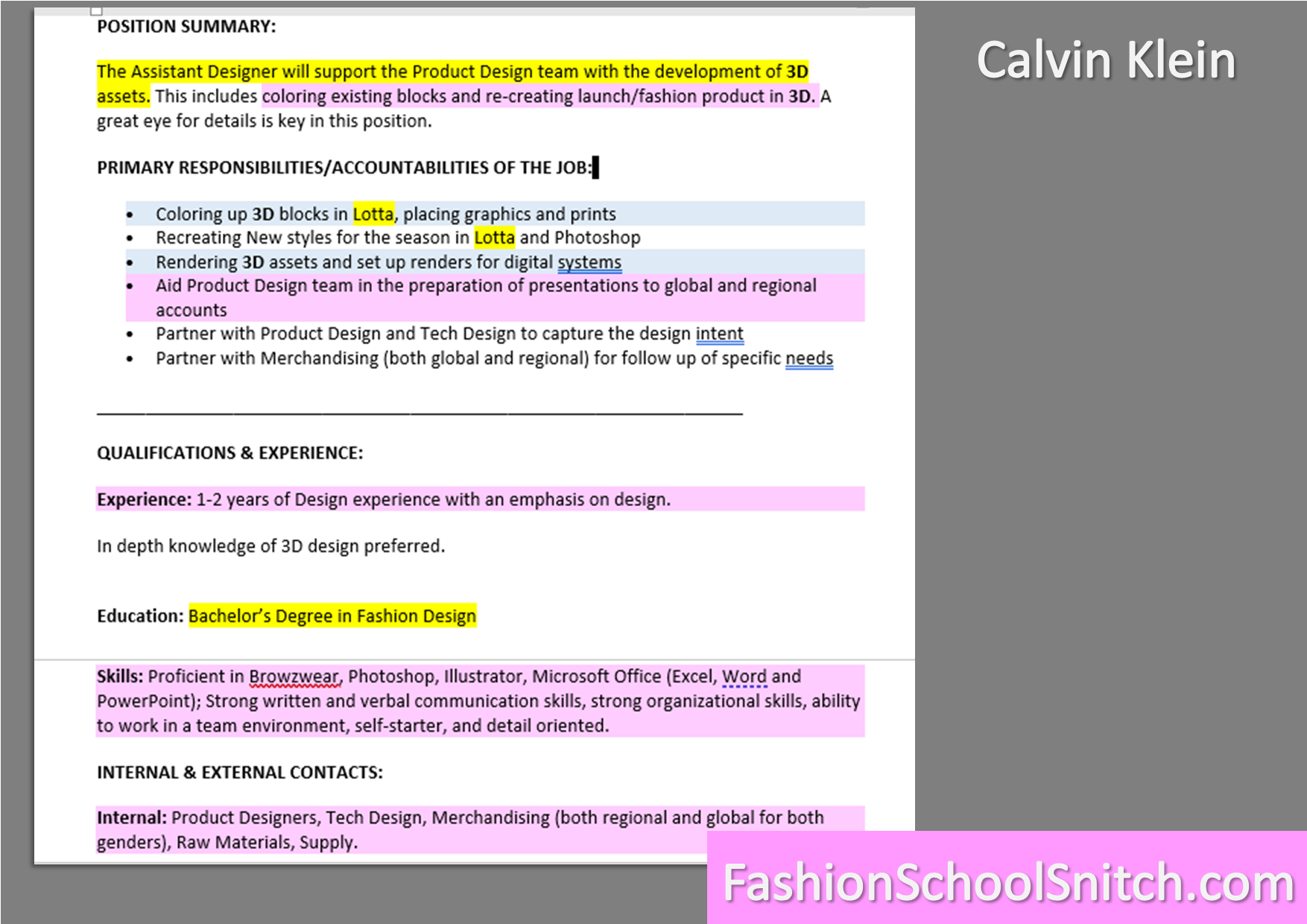 Example Resume Headline For Fashion Designer #3
This is the headline I came up with…
Assistant 3D Designer
Proficient in Lotta By Bronzwear & Photoshop By Adobe Illustrator
Notes:
In this job post several software programs were mentioned. If you go with this approach, do mention the ones that you are actually proficient in. Or do research like this on-the-job posts of the companies you wish to work for and take a couple classes.
I also want to point out that many design jobs have a lot less to do with fashion and concept and a lot more to do with digital and technical design.
Just one more example…
Example Resume Headline For Fashion Designer #4
Now let's look at this job post from Macy's.
When I study his job post the first thing that jumps out at me is the fact that there is a vast variety or roles alluded to here.
Example Resume Headline For Fashion Designer #4
I get the sense that they really just need some one who is willing to knowledgeable and helpful.
So how can we encapsulate that in a resume headline?
I'd go with…
Flexible Design Assistant Offering Technical Expertise As Needed
Final Thoughts
Can there really be a best resume headline for a fashion designer?
I hope you can now see it's all about customization to the particular job post you're responding to.
Here's a quick rundown of the steps I go through…
Study the job post for key words
Combine the title of the job + unique value proposition.
Sprinkle with keywords
For more info about how to write headlines read this section of the fashion resume how to guide.