Fashion School Snitch Blog
Fashion School Snitch Blog keeps you up to date whenever any new or updated pages appear on fashionschoolsnitch.com.
Here's what you'll have to look forward to…
• Fashion school reviews
• A day in the life of's…
• How to get hired in fashion
• And a lot more
Subscribe now – just click on orange icon beside the What's New box – no email necessary.
---
Here's What's New On The Blog...

---
Rosco Adams, Software Developer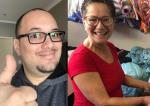 I am actually into Software Development, my mom owned her own factory and did CMT (cut, make and trim) for over 30 years, she wished one of her kids went